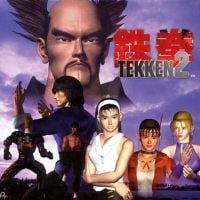 Game mode: single / multiplayer
Multiplayer mode: common screen, players: 1 - 2
Originally released on the PlayStation in 1996, the game is only available in digital form as part of the PSOne Classics service.
Tekken 2 on PS3, PSP and PSV is a direct continuation of the iconic fight from PlayStation, which, along with games such as Virtua Fighter and Battle Arena Toshinden, became one of the most popular games of the genre at the end of the 20th century (as evidenced by several Guinness records, among others). The second part of the series is created by the same Japanese studio Namco. However, just like her predecessor, she made her debut on popular showroom vending machines before she found her way to the home consoles.
The plot of the game takes place two years after the events known from the "one" and focuses again on the character of Kazuya Mishima, who after defeating his father became the new owner of Mishima Zaibatsu corporation. Under his leadership, however, the organization has become even more dangerous and corrupt, dealing, among other things, with repulsive experiments on animals. Kazuya becomes an object of interest of the animal rights activist Juna Kazama. In the meantime, his father Heihachi is also trying to regain power. In such circumstances, another King of the Iron Fist tournament is organized, in which all antagonists are to face each other.
The second part of Tekken offers an impressive number of 25 warriors, most of whom are known to players from the previous installment, although there are also eight completely new ones. As far as mechanics is concerned, combat tactics has been significantly expanded, including an extended repertoire of blows and spectacular "juggling" of the opponent, consisting of wrapping the rival in the air. In the game also appeared completely new gameplay modes, which over time became one of the showpieces of the series. These include Survival Mode - which consists in the fight against successive opponents to the point of total loss of life, Battle Mode Team - team duels with a computer AI or another player's team and Time Attack, where the task of the players is to pass the Arcade mode in the shortest possible time.
In terms of binding, Tekken 2 looks much better than its predecessor, but due to the dynamic development of 3D technology in confrontation with Virtua Fightere 2, for example, it performs quite moderately. There are also a lot of humorous elements in the game, such as the ability to turn on the "super deformed" mode. (characterized by unnaturally large character heads).
Please let us know if you have any comments or suggestions regarding this description.
Age Rating
age requirements: 12+
System requirements
Sony PlayStation 3
Uses: PlayStation Network
PlayStation Portable
Uses: PlayStation Network
PlayStation Vita
Uses: PlayStation Network