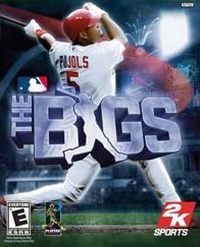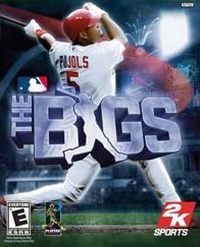 The BIGS
The BIGS is an item released by 2K Sports, a company known for its many sports games. It was developed by the Blue Castle Games development studio, and the whole was supervised by Daniel Brady, the creator of the MVP Baseball series.
The Bigs elevates America's favorite pastime to new heights with larger-than-life ballparks, heroic gameplay and incredible player models. Setting this MLB® experience apart from anything you've ever seen before are spectacular power-ups, stunning special effects, and a totally unique career mode. Featuring fantastic pitching, batting and fielding animations, the Bigs brings new meaning to the term highlight reel.
* Twitch Gameplay - From the moment you take your first swing of the bat or field your first ball, the Bigs departs from the tradition sim gameplay model and brings fast paced, powered up gameplay action to the virtual diamond.
* Larger Than Life - Stadiums, on-field action, player looks and player attributes have all been amplified to deliver a heroic MLB experience.
* Pick-up-and Play Action - Gamers will experience fantastical gameplay their first time experiencing the BIGS. A fast learning curves coupled with deep capabilities keep gamers coming back for more.
* The Bigs Career - From zero to hero, the Bigs Career mode places your "rookie" on the field in his first MLB game. Traveling from city to city, it is up to you to gain a name for yourself, improve upon your skill set and ultimately win the MVP of the World Series.
* Mini-Games - Unique mini-games provide an avenue to improve your skills and increase your abilities at the plate, around the bases and on the field.
Game mode: single / multiplayer Multiplayer mode: Internet Player counter: 4
Media type: 1 BD
Expectations: / 10 based on 1 votes.
PEGI rating The BIGS
The BIGS System requirements