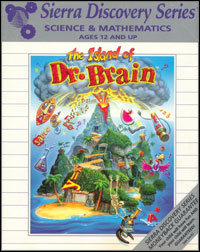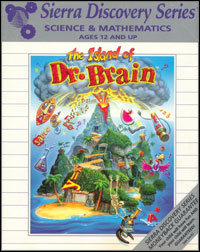 The Island of Dr. Brain
PC
Continuation of Castle of Dr. Brain logic game. Our efforts are focused on puzzles that test our intelligence and knowledge in more than twenty-five fields.
The Island of Dr. Brain

Release Date PC

05April1992
Island of Dr. Brain is a sequel to the Castle of Dr. Brain logical game, which, like the original released in 1991, is part of the product group called the Sierra Discovery Series. This cycle is of an educational nature and is addressed to the youngest computer users.
As a reward for solving all the puzzles in a previous adventure, Dr. Thaddeus Egghead Brain appointed you as his assistant. Now a brilliant scientist needs your help. While working on the latest, strictly secret project, the scientist was hit on the head and deprived of consciousness by an unknown perpetrator. Dr. Brain believes that behind this despicable attack stands his biggest competitor, who wants to misappropriate someone else's achievements and thus gain undeserved laurels. As you may already guess, it is you, the dear assistant, who will try to overtake the wicked one, bringing your employer's project to a successful conclusion.
The thief does not know that a special battery is required to power the device, which - just in case - the doctor hid somewhere on his island. Brain wants you to go there and get your precious object back. The task will not be easy. The battery is protected by a dozen or so traps, which must be neutralized by following certain instructions. Repeat your entertainment? Yes, but this time in a tropical atmosphere.
The struggle in Dr. Brain's Island of Dr. Brain focuses on the above mentioned riddles, which constitute separate challenges. The island will thoroughly test your intelligence and knowledge, testing you from more than twenty-five fields. Issues include algebra, mathematical sequences, synonyms, physics, genetics, programming and map reading skills. A strong point of the program is the adjustable difficulty level, so that at any time it can be adjusted to the predispositions of the user. If, despite lowering the bar, the puzzles seem to be too complicated, you can always use the hints. Although their number is strictly limited, correctly performed tasks increase the pool of available facilitations.
The game is characterized by nice, colorful graphics, nice soundtrack and intuitive, banal user interface, which was previously admired in adventures of Sierra On-Line company from the first half of the nineties of the XX century.
Please let us know if you have any comments or suggestions regarding this description.
Last updated on 03 March 2009
Game mode: single player
Age restrictions The Island of Dr. Brain: Good for all ages.