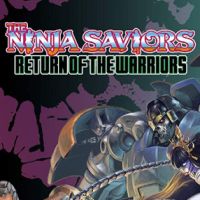 Game mode: single / multiplayer
Multiplayer mode: common screen, players: 1-2
The Ninja Warriors: Once Again is a remastered version of the 1987 beat'em up The Ninja Warriors: Again. The game was developed by Natsume studio and released by Taito.
Plot
The Ninja Warriors: Once Again takes players on a journey into a world ruled by a tyrant named Banglar. The resistance movement against him created androids to give them an advantage over the dictatorial forces. When the rebels fell victim to a massive attack, they had no choice but to send into battle machines that were still untested.
Mechanics
Before playing The Ninja Warriors: Once Again, players choose one of the androids differing in terms of appearance, combat skills, and weaponry. While Ninja fights with nunchaku, Kamaitachi uses kusarigama (a special sickle on a chain), and Kunoichi uses knives and swords; the three original heroes are complemented by two new protagonists, Yaksha and Raiden.
Players observe the action from the side perspective, as they complete linear levels and fight against hordes of enemies; at the end of each stage there is a powerful boss. Battles are dynamic, and during them players have to perform quick dodges, mount instant counterattacks, and effectively block enemy blows. In addition, androids can make use of environmental elements like motorcycles and throw them at enemies. In addition, in the course of the struggle players charge a power bar, after which they can perform a special attack dealing damage to all adversaries visible on the screen.
Game modes
In The Ninja Warriors: Once Again, one can play alone or in the company of another player, as part of a local co-op mode.
Technical aspects
In comparison to the original, The Ninja Warriors: Once Again stands out thanks to its nicer visuals, which have been adapted to modern standards (improvements have been made to the characters' models), while maintaining the "spirit" of the original.
Similar games:
PEGI Rating