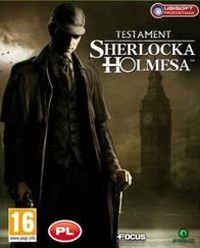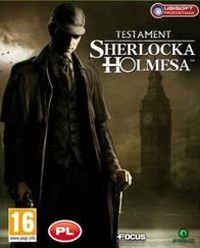 The Testament of Sherlock Holmes
The New Adventures of Sherlock Holmes: The Testament of Sherlock
Another chapter of the popular detective series, developed by the Ukrainian studio Frogwares continuously since 2002.
Adventure | TPP | books | Detective | Sherlock Holmes | 19th century
For over 10 years now, millions of gamers have stepped into the shoes of the most famous detective in a dozen different games made for PC and portable systems. Today, Sherlock Holmes is back in his very first adventure especially created for PlayStation® 3 and Xbox 360® game consoles, as well as for PC.
The Testament of Sherlock Holmes is an investigation game that puts you at the core of a thrilling and complex plot. It has all of the ingredients to make a great investigation: examination of crimes scenes, collection of clues and evidence, pursuing of leads, questioning of witnesses and suspects, reasoning and deduction work...that's what the heart of the game is made of. The game is easily played with a gamepad on console, yet keeps the classic mouse gameplay on PC. While playing as the famous detective, you will have to solve the trickiest case of his entire career since Sherlock Holmes himself is the main suspect!
Use all of your skills to sort out the numerous twists and mysteries of this investigation. You will need to be a keen observer on the different crime scenes in order to examine every single clue. Your logic and the game's ingenious deduction system will be of great help to link the facts together and draw the right conclusions. During the questioning, you will choose your approach to put your interlocutor off guard to find out as much information as possible! In the end, you will lead a head-on open investigation, sometimes playing as Sherlock Holmes, sometimes as Doctor Watson. You alone will decide which leads to follow.
London, 1898.
Holmes has just successfully solved a new case by retrieving a priceless set of jewels that had been stolen. Unfortunately, the jewels' owner reveals that the necklace Holmes returned to him is a pale imitation...and everything seems to incriminate the detective!
A true descent into hell starts for Sherlock Holmes. London begins to have doubts and starts to lose its trust in Holmes who is incapable of refuting suspicions or of disproving the charges against him. Even Doctor Watson's unshakable faith in his friend starts to waver as the famous detective avoids Scotland Yard and increases strange behavior: night escapades, blackmail, destruction of evidence...Can Holmes go so far as to murder someone?
Dark and sinister, The Testament of Sherlock Holmes features a Sherlock Holmes like you have never seen before. It is a breath-taking story that multiplies twists and turns to constantly surprise players already captivated by Sherlock Holmes' dark side.
Game mode: single player
Media type: 1 DVD
User score: 8,7 / 10 based on 612 votes.
Pre-release expectations: 8.9 / 10 based on 203 votes.
PEGI rating The Testament of Sherlock Holmes
The Testament of Sherlock Holmes System requirements
Recommended:
Core 2 Duo 2 GHz
2 GB RAM
graphic card 256 MB (GeForce 8600 GT or better)
14 GB HDD
Windows XP(SP3)/Vista(SP2)/7