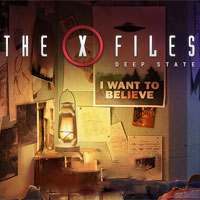 The X-Files: Deep State is a game based on the popular TV series The X-Files. It was produced by Creative mobile, known for Last Inua and Mushroom Wars, and published by FoxNext. The game utilizes a free-to-play model.
Plot
The X-Files: Deep State is set between the spring of 2010 and the events of seasons nine and ten of the TV series. You play as an FBI agent called Dale, who has to solve a case entailing much more than just an ordinary crime. Since the release date, the game has been constantly expanding.
Mechanics
The production is a simple mobile adventure game, whose mechanics are based on the visual novel and hidden object genres. The gameplay features static images, in which you have to look for clues and hints. When you find a clue, you need to examine it by e.g. sending the sample to a lab for analysis or having a body autopsied. Each activity takes time, as well as energy, which regenerates, but when you use all of it, you can't continue playing until you get it back. Of course, some processes can be sped up with microtransactions.
Technical aspects
The X-Files: Deep State features well-done visuals, although they're far from advanced 3D graphics—the game resembles a collection of interactive static pictures.
Age Rating
age requirements: 18+