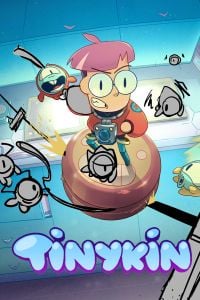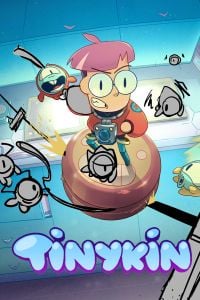 Tinykin
Tinykin is a 3D platform game in which we play as a young astronaut visiting Earth. The problem is that the planet is abandoned and the hero has been reduced to the size of an ant. Fortunately, our protégé is not alone - he can count on the help of the titular tinykin.
Arcade | TPP | 3D platformers | adventure elements | indie games | Xbox Game Pass
Tinykin is a 3D platform game enriched with solutions that bring to mind the popular Pikmin series. The game was developed by an independent team Splashteam and was published by tinyBuild.
Plot
Tinykin takes us on a journey to the far future. In the year 2748 a young astronaut named Milo rediscovers a long forgotten planet - Earth. The protagonist immediately teleports to the blue globe, but being there, he discovers that he got into huge trouble. And it's literally huge, because he has become tiny, which means that even an inconspicuous wasp can pose a great danger to him. As if that wasn't enough, all the people disappeared in mysterious circumstances and time seems to have stood still in 1991. Fortunately, our protégé can count on help from the titular mysterious creatures whose strength is their size. Milo has no other choice - in order to find his way back, he has to set off on a journey through the great house, which holds the key to solving Earth's greatest mystery.
Mechanics
In Tinykin the action is presented from the third person perspective (TPP). During the game, we explore the house Milo has found himself in and its surroundings. Ants, beetles and other insects have built their cities among the standard furnishings, which are of gargantuan proportions from Milo's perspective. Although the house is devoid of its rightful inhabitants, Milo does not feel alone, as he often meets various characters who are willing to share their stories with him.
Although there's plenty of platform jumping typical of the genre, it's the tinykin that follow the protagonist that are the key to solving most problems. Exploring various rooms, we catch these creatures, and their abilities allow us to get into various hard to reach places. Thanks to their size, these creatures can, among other things, move heavy objects and create a kind of ladder, which Milo can climb up, and a few (or more) can be thrown accurately to break down closed doors. In addition, other attractions await the hero, such as a crazy slide on a soapbox. On the way we gain various upgrades that allow us to face new challenges.
Technical aspects
Tinykin features an original graphic design, which consists of 2D (main character, tinykin) and 3D (elements of the environment) objects. The whole is maintained in a colorful, cartoonish style.
Game mode: single player
Age restrictions Tinykin: Good for all ages.
Tinykin System requirements
Minimum:
Dual Core
2 GB RAM
graphic card 1 GB GeForce GTX 460 or better
2 GB HDD
Windows 7/8/10 64-bit