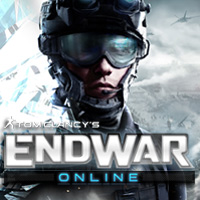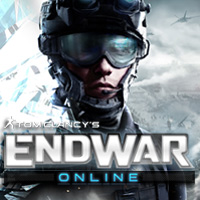 Tom Clancy's EndWar Online
WWW
A browser version of the 2009 real time strategy signed by Tom Clancy. It was created by the developers of the original game – the team of Ubisoft Shanghai. The game takes place in year 2030, 10 years after the events of the first title.
Strategy | MOBA | play for free | alternative history | MMO
Tom Clancy's EndWar Online

Release Date WWW

04February2016
developer: Ubisoft publisher: Ubisoft Official website

game language: English
Tom Clancy's EndWar Online is a browser MOBA game, which refers to Tom Clancy's EndWar – a RTS production released a few years ago. The title has been developed by the Ubisoft Shanghai studio. Unlike its predecessor, EndWar Online is based on the free-to-play business model with optional microtransactions.
The action of EndWar Online is set in the near future; according to the game's story, in the year of 2030 Earth has been utterly ruined by a nuclear war between three opposing superpowers – the USA, the European Federation and the Russian Federation. Battles are still constantly waging on the ruins of the previously known world.
The players can choose to fight either on the side of Europe or Russia and, as commanders of small armies, they can participate in the single player campaign missions; however, it is online one versus one multiplayer matches that are the essence of the title. The skirmishes are distinguished by being extremely dynamic, they also don't require any micromanagement. The units have been balanced and possess their own sets of strengths and weaknesses; there are no troops, which are the overall best, as the developers have implied the proven rock-paper-scissors rule. During combat our soldiers acquire experience, enabling them to acquire new abilities and use more advanced technologies.
Winning battles, apart from progressing your armies, will also influence the standing of your faction. The state of the war can be monitored from a view on a virtual model of the Earth. By waging battles in various countries of the world, the players contribute towards taking control over those regions, which ultimately results in world domination of one of the factions. The commanders of the winning side receive several bonuses that carry over to the next round.
EndWar Online utilizes the Adobe Flash program; for a browser production, it features surprisingly pretty 3D graphics. The developers have also included realistic sounds of gunfire and explosions.
Game mode: single / multiplayer Multiplayer mode: Internet
Expectations: 7.5 / 10 based on 25 votes.
PEGI rating Tom Clancy's EndWar Online