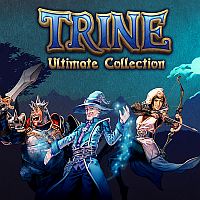 Game mode: single / multiplayer
Multiplayer mode: Internet / common screen, players: 1-4
Trine: Ultimate Collection is a compilation of four platform and logic games from the Trine cycle: Trine Enchanted Edition, Trine 2: Complete Story, Trine 3: The Artifacts of Power and Trine 4: The Nightmare Prince. There is an independent studio Frozenbyte behind the development of all the titles that make up this set, while its release was handled by Modus Games.
Plot
Action of the games included in the compilation Trine: Ultimate Collection takes place in a fairy-tale world. The main characters of the stories told in them are the knight Pontius, the thief Zoya and the sorcerer Amadeus. We get to know the protagonists at the moment when their fates intertwine with each other due to the magical artifact - the title Trinity.
In the first part of the series, the task of our wards is to face hordes of undeads, which attacked the land inhabited by them. In the second part of the cycle, the heroes have to deal with the goblin army, having at their disposal the only clue in the form of enigmatic names - Rosabel and Isabel. Trine 3: Artifacts of Power revolves around a unscrupulous sorcerer who managed to escape from his prison. In Trine 4: The Nightmare Prince is rescued by a lost prince whose nightmares permeate the real world.
Mechanics
In Trine: Ultimate Collection we play the above mentioned heroes, each of which has individual abilities. Zoy's thief eliminates enemies at a distance with a bow, and thanks to a hook line, she can reach places inaccessible to other heroes. Knight Pontius, on the other hand, is great for close combat and blocking attacks of enemies with the help of a shield. The weakest is Amadeus, who can materialize objects and transfer them by telekinesis.
When traveling through fairy tale locations, we have to make use of the strengths of each of the characters. Only in this way can we solve ingenious puzzles, avoid numerous traps and obstacles, and face adversaries, led by powerful bosses.
Game modes
In Trine: Ultimate Collection you can play alone (all productions allow you to switch freely between heroes) or in cooperation with other players.
Technical aspects
All games in the Trine: Ultimate Collection compilation are eye-catching with colorful graphics in a fairy-tale style. It is worth noting that only the third part of the cycle was set in full three-dimensional; the visual sphere of the others was made in the 2.5D technique.
PEGI Rating