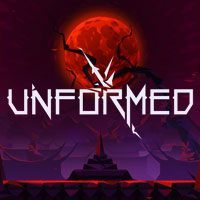 Unformed is a metroidvania game, developed by the independent studio Blackfire Games (the devs of Runestone Keeper). The team includes developers who previously worked on BioShock, Far Cry, XCOM, Rayman and i>Rainbow Six. The source of inspiration for the artists was Chinese folklore and the works of H.P. Lovecraft.
Story
Unformed takes the player to the Huangting Valley - a fantastic land that hides the key to immortality. After its location was discovered by the power-hungry King Zhao, the struggle for influence began between three opposing factions - their members have previously tried in various ways to say goodbye to death once and for all. The civil war that broke out in this land shortly afterward led to the awakening of an ancient deity, which turned the valley into a hell on earth. Those who managed to survive the catastrophe have since remained hidden - the rest have fallen asleep or gone mad. That's how the game's protagonist, a so-called collector of souls, finds the valley - the task she has to perform is to solve the mystery hidden in the place.
Mechanics
In Unformed the action is presented from the side. The pillar of the game is the exploration of vast and varied levels - often opening a passage to a blocked area requires solving a more or less complicated puzzle. It is worth noting that despite the fact that the game takes place in a two-dimensional environment, individual locations have a background on which, among other things, useful elements of equipment have been hidden.
The character progression system is based on the acquisition of progressively better equipment. The protagonist gets access to new weapons both by carefully combing the visited areas and by performing tasks commissioned by NPCs. In addition, we can improve our tools using special crystals that we find in the course of our adventure.
The implementation of the tasks entrusted to us is hindered by the ubiquitous opponents. The battles take place in real-time, during which we make use of both melee weapon, as well as offensive and defensive spells. Like the Souls games, winning here requires careful observation of the opponent's movements and understandinh of their attack patterns.
Technical aspects
Despite their original design, the two-dimensional visuals of Unformed presents an average level of execution. Due to one of the sources of inspiration for the devs, the game's dedicated soundtrack evokes associations with the culture of ancient China.
System requirements
PC / Windows
Minimum: Dual Core, 2 GB RAM, graphic card 1 GB GeForce GTX 460 or better, 2 GB HDD, Windows 7