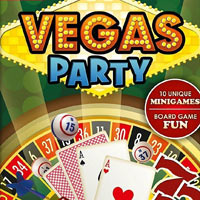 Vegas Party
A mix of a board game and a casino simulator taking place in a lighthearted over-the-top version of Las Vegas. Vegas Party offers multiplayer for up to four players, seventeen varied casinos and a wide range of minigames.
Party | gambling | Board & card | humorous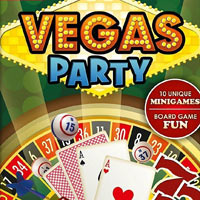 Game mode: single / multiplayer
Multiplayer mode: common screen
Vegas Party is a lighthearted mix of a board game and a casino simulator taking place in a fictional, over-the-top version of the titular Las Vegas. The title offers numerous features and minigames and was developed by Funbox Media.
Mechanics
The gameplay of Vegas Party differs somewhat from others games of similar genre. We begin the game with a choice of one of the available avatars that maintain the humoristic feel of the whole game – the players can assume control of a grandma or a rapper with a gold chain on his neck. Then, our hero is taken to a three-dimensional universe that looks like a board game. We can throw the dice to move the character by a given number of fields, and – if the character is in the right spot – enter the given building and take part in one of a few minigames that enable us to earn or lose money (represented by chips).
The aforementioned process is repeated until we make it to the end of the playing field. Once that happens, the game counts up the chips held by the players. The game from Funbox Media offers seventeen casinos and a wide range of minigames (Black Jack, roulette, darts, bingo, Texas Hold'em and slot machines).
Game Modes
Vegas Party offers both single (AI-controlled opponents) and multiplayer modes for up to four players.
Technical Aspects
Vegas Party offers three-dimensional visuals, but their quality will surprise nobody – the character and world models are of average quality. Moreover, the game's texture and lighting quality are low. The visuals are somewhat saved by the light-hearted design and omnipresent comical elements that make fun of all the stereotypes connected to Las Vegas.
Similar games:
Age Rating
age requirements: 12+