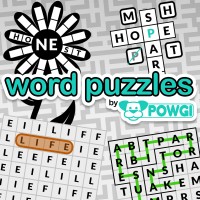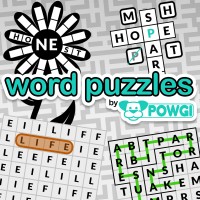 Word Puzzles by POWGI
A collection of several dozen puzzles representing six different types of puzzles.
Word Puzzles by POWGI is a verbal puzzle game, which is a collection of problems representing six types of puzzles. Its developer is the American company POWGI (Puzzle on word games Inc.), which specializes in publishing mobile applications and console titles based on well-known and popular word and number puzzles, such as Sudoku. The developer's games have been released primarily on Nintendo and PlayStation p[latforms.
Mechanics
Word Puzzles by POWGI offers dozens of puzzles in one of the six categories.
Word Maze - players look for words on a large board filled with letters, building a complex maze with their help.
Mixups - we solve anagrams consisting of three different words.
One word - the player's task is to find a mysterious word on a board filled with letters, which will complete a quotation or proverb displayed on the screen.
Flower - we build six-letter words on opposite petals of a flower. As part of the hints, their two middle letters are revealed at the centre of the plant.
Cirles - three connected words are hidden in three intersecting sets of letters. The task of the players is to find them.
Crossword - a crossword in which only one letter is needed to reveal all the words.
Technical aspects
Like other logic games from POWGI, Word Puzzles by POWGI features very simple two-dimensional visuals and extremely minimalistic soundtrack.
Game mode: single player
Age restrictions Word Puzzles by POWGI: Good for all ages.