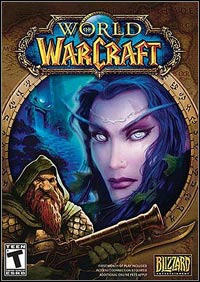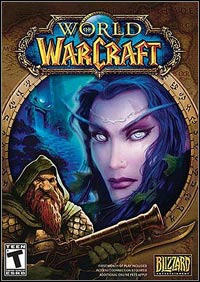 World of Warcraft
PC
WoW
An overwhelmingly popular MMORPG set in the universe known from a cult series of RTS games from Blizzard Entertainment. Several years after the events of WarCraft III: The Frozen Throne, Azeroth is still being shaken by the conflict between the new two opposing factions.
World of Warcraft

Release Date PC

23November2004
developer: Blizzard Entertainment publisher: Blizzard Entertainment Official website

game language: English
World of Warcraft for PC is a massive multiplayer online (MMO) RPG, which means that hundreds of people from all over the world can play together at the same time. The game invites you into a fantasy world ravaged by wars and cataclysms – Azeroth, the realm featured in the WarCraft series.
It has been just a couple of years since the events of WarCraft III: The Frozen Throne. The old conflicts may have been resolved, but the land is far from being peaceful. Despite the efforts of its inhabitants, already tired of war and yearning for peace, a new danger lurks on the horizon.
Two conflicting groups are formed. One of them is the Alliance of Men, Dwarves, Night Elves, and Gnomes. They are opposed by the Horde, uniting Orcs, Taurens, Undead, and Trolls.
The environment of World of Warcraft is brimming with life. There are living creatures – intelligent or not – everywhere; starting from the icy lands of Winterspring and all the way through the humid jungles of Stranglethorn. It is up to you, who you become; the possibilities are a plenty.
Players fond of mysteries, dark themes, and overwhelming nature, will most likely pick a Night Elf character residing in the mystic forests of Kalidar. You should remember though, that Night Elves are poor at coexisting with representatives of other races, because of their overly high self-esteem.
Khan Modan is the home of sturdy Dwarves. Over the long years of living under the mountains they have mastered the art of blacksmithing. Despite being short, they are more than capable of wielding deadly axes. Their favorite strategy is defense – dwarven strongholds are almost impenetrable. Dwarves are exceptionally famous for their accurate sharpshooters and gryphon riders.
On the other hand, the core race of the Horde are the greenskin Orcs. In the past, their minds were corrupted by the Burning Legion, but now the Orcs are guided by their own reason. They have become enlightened creatures, although they retained their strength and power.
Taurens are another race of the Horde. They are strong warriors, in appearance similar to bulls. Regardless of their physical strength, Taurens can be skillful practitioners of all sorts of magic. In addition, they feel strong connection to the Earth Mother, who is the source of their shaman powers.
If you would rather play as a noble, decent knight, you may want to choose a Man, and stand sword by sword, shield by shield, together with your kinsmen to fight for the people of Lordaeron.
Character creation does not end with determining the race and appearances. It is equally important to pick a profession. There are as many of those as there are races: Warriors, Mages, Shamans, Warlocks, Druids, Hunters, Paladins, Rogues, and Priests.
World of Warcraft's Azzeroth is a massive world, consisting of numerous lands, such as Kalimdor, Khaz Modan, Lordaeron, Northrend, Quel'Thalas, and Stranglethorn. All of them are roamed by different creatures – some are not very dangerous, whereas others are deadly. For instance, as you travel across Stranglethorn, you may encounter a basilisk – if you are a less experienced warrior you should run away, if you treasure your life. In Kalidar, the realm of Elves, you should be wary of harpies – many valiant warriors fell victim to their claws. These are just two examples of the large, and constantly growing, bestiary featured in World of Warcraft.
Note that the developer team constantly expands the game, adding new, even more exciting missions and stories. Their efforts are aimed to keep World of Warcraft thriving for many years after the launch. However, playing the game requires paying a monthly subscription.
Last updated on 10 December 2007
Game mode: massive online multiplayer Multiplayer mode: Internet Player counter: 1000+
User score: 8 / 10 based on 7030 votes.
PEGI rating World of Warcraft
World of Warcraft System requirements
Minimum:
Intel Core i5-760 2.8 GHz / AMD FX-8100 2.8 GHz
4 GB RAM
graphic card 2 GB GeForce GTX 560 / Radeon HD 7850 or better
70 GB HDD
Windows 7 64-bit
Recommended:
Intel Core i7-4770 3.4 GHz / AMD FX-8310 3.4 GHz
8 GB RAM
graphic card 2 GB GeForce GTX 960 / 3 GB Radeon R9 280 or better
70 GB HDD
Windows 10 64-bit