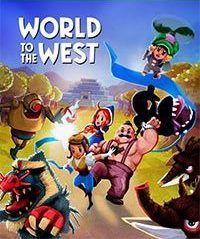 The PC, SWITCH and etc. release of World to the West is an action-adventure game featuring occasional logic puzzles and RPG elements. Created by Norwegian Rain Games, World to the West tells a story set in the universe introduced by the previous game created by Rain Games – 2013's Teslagrad.
Plot
The story in World to the West revolves around the adventures of four characters, each from a different part of the world and each with different motivations – Lumina the teslamancer, Knaus the orphan, Miss Teri the mind bender and the gloriously mustachioed strongman, Lord Clonington. Players get to meet them during the prolog, which introduces the story of each protagonist.
During the game, our protagonists join their forces to achieve one common goal – retrieve stolen treasures and stop the villain who took them. On their adventure, players get to traverse a number of various locations, such as the wild jungle and the icy tundra, explore forsaken ruins, discover forgotten civilizations, and finally, solve the mystery of an ancient prophecy.
Mechanics
The gameplay mechanics resemble those featured in classic installments of The Legend of Zelda series. The game features a top-down perspective and combines occasional logic puzzles and RPG elements. Players get to traverse the partially open world and gradually unlock new regions. On their way, players will encounter many characters – some of them are new, while the others are known from the aforementioned Teslagrad). Characters we get to meet can be either helpful or hostile – when confronting them, players can choose to fight, persuade, or simply avoid them.
During both combat and exploration, one can make use of the unique abilities featured by the protagonists and combine them to solve some of the puzzles. Lumen has a special ability to control electricity. Knaus, a rather weak and little fellow, can dig underground tunnels and avoid some of the foes. Miss Teri is able to take control over her adversaries, while Lord Clonington prides himself on his unusual strength. On their journey, players can find many useful items, such as money or special bonuses increasing maximum energy levels.
Technical aspects
The PC, SWITCH and etc. release of World to the West delivers simple and colorful 3D visuals inspired by European comic books and the The Legend of Zelda installments mentioned above, which also was a clear inspiration for the top-down perspective implemented in the game.
PEGI Rating
System requirements
Minimum:
Intel Core i3
2 GB RAM
3 GB HDD
Windows 7