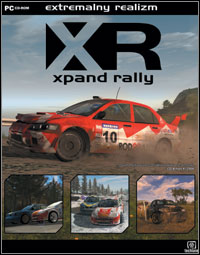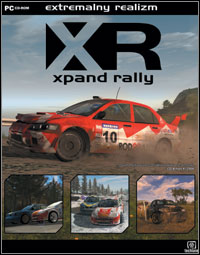 Xpand Rally
PC
WRCeXpanded class rallies. This is an extreme and very spectacular struggle, because there are no restrictions on the power of cars and various modifications to improve their capabilities.
Xpand Rally

Release Date PC

24September2004
developer: Techland publisher: Techland Official website

game language: English
Xpand Rally is a breathtaking game that gives you the true to life experience of driving powerful rally cars amidst photorealistic sceneries. Realistic weather effects, rolling hills, and animated scenery all add to game's visual perfection. Xpand Rally also features highly detailed models of modern rally cars and handling physics developed with the help of rally sport professionals which further enhance the realism of driving experience.
Xpand Rally combines the best elements of Rally and Rally Cross racing in one unique gaming experience.
The game offers a career mode based on time trials during both: individual races and World Championship Series which will satisfy traditional Rally fans. The Rally Cross fans won't be disappointed either - they can challenge several opponents in head to head racing during competitions based on real and fictitious race events.
Xpand Rally, as the only title on the market, brings the economy factor into a rally game. The player starts with a junk car and competes in races to earn money and acquire upgrades, repair damage, tweak performance and pay the race entry fees.
Along with the tuning-up, the car's condition affects its handling. Due to accurate damage system, it is highly dependent on the player's driving skills. The physical handling model is also influenced by car parts configuration and provides both authentic feel and joy of driving.
The interactive race track surroundings with enhanced game physics and the innovative approach to changing daytime and weather conditions, both influencing the car handling, are other hallmarks of Xpand Rally that distinguish it from other racing games.
For the first time among rally games Xpand Rally includes a complete set of easy-to-use editing tools enabling to create new tracks, cars or even game mods.
Innovative Graphics Realism Presentation System
* New global shadows and lighting system
* Photorealistic track environment graphics
* For the first time every obstacle object to be hit and moved by the car
* Fully dynamic day time and weather changes
* Extremely detailed car models and complex car damage system
Two driving modes
* Simulation and Arcade car handling physics with accurate steering models
* Diversified car damage models and driver's injuries simulation
Car handling depending on:
* Fully user adjustable car settings
* Car damage and parts wear
* Surface type
* Weather conditions
Career mode
* Competitive AI times
* Over 70 races in 5 diversified sceneries
* Over 35 sport cars in 8 divisions
* Over 800 tuning parts for all cars
* Races with or without opponents' ghosts cars
Challenging Multiplayer modes
* Rally - race against the clock with opponents' ghost cars
* Rally Cross - compete head-to-head with full collisions simulation
* Free Style - compete off-road with no restrictions to tracks
Single race mode
* Time attack tracks
* Free Style maps
* Download or publish your best drives to compete with the best XR drivers
And...
* Save and publish your best drives as AVI files
* Authoring tools for editing tracks and importing cars
* Easy moding architecture
* Realistic sound effects (sounds of the engine, brakes, crashes etc. based on real car sounds)
Last updated on 10 December 2007
Game mode: single / multiplayer Multiplayer mode: Internet Player counter: 1 - 8
Media type: 2 CD
User score: 8.5 / 10 based on 1349 votes.
PEGI rating Xpand Rally
Xpand Rally System requirements
Recommended:
Pentium III 1.3 GHz
512 MB RAM
graphic card 64MB (GeForce 3 or better)
1.3 GB HDD