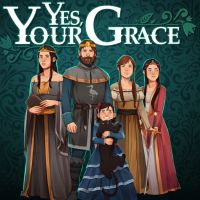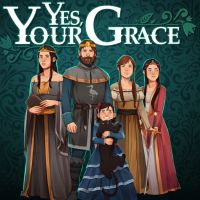 Yes, Your Grace
A strategy game in which we play the role of a ruler who makes various decisions that affect the fate of both his loved ones and the whole kingdom. In terms of gameplay mechanics, Yes, Your Grace resembles the popular Reigns series.
Strategy | fantasy | Economic | RPG elements | 2D | indie games
Yes, Your Grace is a strategy game that enables the players to prove themselves in managing a medieval kingdom. The game, inspired mainly by Slavic folklore, was developed by an independent team at Brave At Night, and its release was taken care of by No More Robots.
Plot
The action of the game takes place in the fantasy kingdom of Davern. During the game, we play the role of a ruler, who has not yet had a son, and thus - an heir to the throne. In the past, the king decided to give the hand of his eldest daughter, Lorsulia, to the leader of the barbaric tribe from the north. In time, however, he understood his mistake and, trying to correct it, he allowed her to marry a prince instead.
The weddings ended in a catastrophe for the kingdom; an army of savages, who came for Lorsulia, plunders its lands, the undefended castle falls into ruin, and the treasure becomes empty at an alarming pace. This is where the player comes in to rebuild Davern and ensure the safety of both their subjects and members of the royal family.
Mechanics
The gameplay in Yes, Your Grace resembles the Reigns series. During the game, we spend most of our time in the throne room, shown on the side, where various people with their problems waiting to be solved come to seek an audience. These include both trivial matters, such as a lost piglet, and much more serious worries, such as the damaged defensive walls of the castle, deficiencies in the army or impending battles with enemy troops. Which of these will be given priority is entirely up to us. It is worth noting, however, that we have limited resources, the decisions we make have consequences for the whole kingdom and for our loved ones, and that without the support of the nobles, who can offer their help in exchange for a particular favor, our days as a king may be numbered.
Technical aspects
Yes, Your Grace was created in pixel art; the game's visual side is enjoyable due the rich color palette and attention to detail.
Last updated on 25 October 2019
Game mode: single player
User score: 8 / 10 based on 303 votes.
Pre-release expectations: 7.1 / 10 based on 56 votes.
Age restrictions Yes, Your Grace: Good for all ages.
Yes, Your Grace System requirements
Minimum:
Intel Core i5
2 GB RAM
graphic card 1 GB GeForce GTX 550 or better
3 GB HDD
Windows 7
Recommended:
Intel Core i5
4 GB RAM
graphic card 2 GB GeForce GTX 760 or better
3 GB HDD
Windows 10