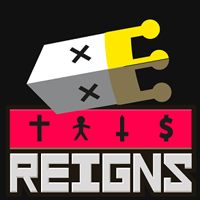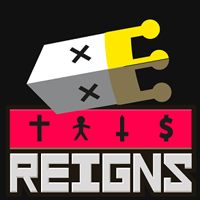 Reigns
A unique indie game by Nerial and Devolver Digital, and a combination of three genres: strategy, roguelike, and card games. Reigns takes place in an exaggerated medieval setting. You play as a king, and your objective is to manage your kingdom. You have e.g.
Strategy | roguelike | 2D | card games
Reigns is a creative mix of strategy, card game and roguelike developed by Nerial, whose portfolio includes e.g. Devouring Stars, and published by Devolver Digital. The title was released on PC, Android, and iOS.
Story
Reigns takes the player to an original, heavily exaggerated vision of the Middle Ages. The task that awaits us here is to manage an entire kingdom. The duties of the ruler, impersonated by the player, including passing judgments, providing for the needs of our subjects, economic development, as well as maintaining diplomatic relations with our neighbors, which often leads to wars. It is worth remembering that our decisions have various consequences - some may even lead to the death of the hero, and this one is permanent. In this case, the only solution is to restart the game.
Mechanics
The gameplay in Reigns is unusual. During the game, the player draws cards representing postulates addressed to the king. These may concern various spheres of the kingdom's functioning - from royal marriages, through deciding taxes, to using the services of assassins. The mechanic itself is modeled on the popular Tinder app - moving the card to the left or right results in a positive or negative decision.
Technical aspects
Reigns is characterized by simple, but fitting the overall atmosphere of the game, visuals. Thanks to such a move, it was possible to maintain smooth and fast gameplay, as well as low hardware requirements on PC. In addition, this is a premium game, so the player will not encounter any microtransactions in it.
Game mode: single player
User score: 8 / 10 based on 49 votes.
Age restrictions Reigns: Good for all ages.