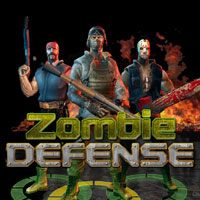 Zombie Defense is a tower defense production enriched with elements from real-time strategy games. The title went to a number of platforms, on which PCs, WiiU etc. appear on the list, and behind its creation is an independent Polish Home Net Games studio.
Story
Zombie Defense takes us on a journey to the postapocalyptic world captured by the title living corpses. The World Government, created shortly after the outbreak of the epidemic, sends to the battlefield an elite Strike Group "Kobra 1", led by an experienced lieutenant. It is in him that the player takes on the responsibility for the final crackdown on the undead and for the lives of his subordinate commandos.
Mechanics
During gameplay in a PC, WiiU etc. released on the platform. Zombie Defense action is observed from a camera suspended high above the battlefield. Our task is to defend certain points on the map against undead attacks. The authors have prepared more than twenty types of units - both soldiers and automatic shooting towers. The key to success is, above all, that they are arranged in such a way as not to allow zombies to break through the entanglements.
No less important are the improvements, which we supply our subordinates between stages - there are more than one hundred and fifty of them, and we are talking about new skills as well as additional armament. The arsenal includes not only classic firearms (such as machine guns, rifles and sniper rifles), but also explosives and Molotov cocktails. Due to the fact that corpses come from all sides at the same time, vehicles like bulldozers or armoured transporters, able to convert enemies into bloody pulp, are often useful as well. From time to time it is also worth taking advantage of the opportunity to call for support, for example in the form of an air raid.
Game modes
Zombie Defense offers several gameplay modes, including a campaign consisting of several dozen missions - there are also special challenges to test and a module in which we face waves of enemies. It is worth noting that the authors allow for the selection of one of the four levels of difficulty, and their achievements can be boasted on the online scoreboard.
Technical issues
Zombie Defense was created primarily for mobile devices, but the three-dimensional graphic design of this production presents a decent level of workmanship also on PCs. On most platforms, the title is distributed in a free model with optional micropayments (free-to-play) - but this does not apply to the version for the Nintendo Wii U console, which is a paid item.
Please let us know if you have any comments or suggestions regarding this description.
Age Rating
age requirements: 16+