News
hardware & software
24 April 2017, 15:42
Investments into VR projects decline
VR technology has run into some trouble on its road to popularity. Because of mixed results acvieved by several big players in the industry, investors are now much more cautious about VR than they were in 2016.
Investors' interest in VR and AR technologies seems to be dropping lately. Investments made into virtual and augmented reality startups have dropped as many as five times year over year, Crunchbase reports. According to their data, in the first quarter of 2017 there has been 26 VR or AR-focused companies which raised the total of $200 million, as contrasted with 29 companies and over $1 billion in Q1 2016. Note, however, that 2016's result was extraordinarily high for VR, much higher than in the previous years.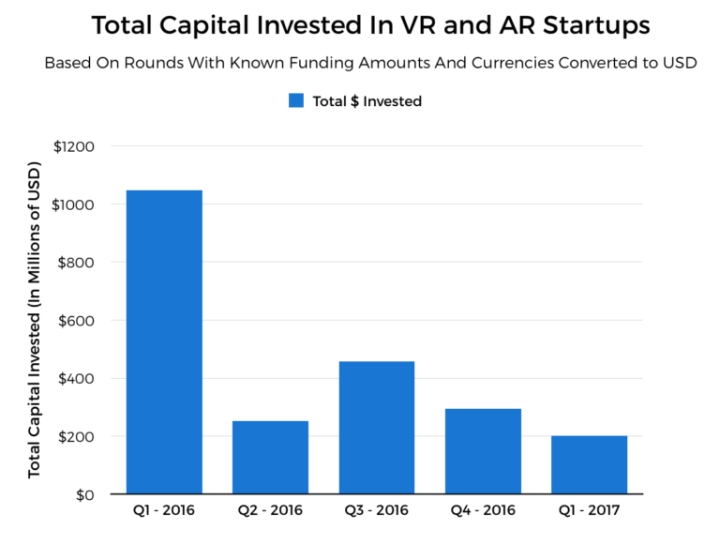 Source: Crunchbase
That spike in early 2016 was mainly possible due to one company, Magic Leap, whose AR technology generated much hype and rounded nearly $800 million. Unfortunately, later the project received some bad opinions and was reported to be on a much earlier development stage than the producer suggested in their first video demonstration.
Besides, the existing VR technologies fail to meet the high expectations. A sound example of that is the fact that Facebook had to close hundreds of live demo stations at Best Buy stores recently, because there wasn't enough customer interest. They also cut the headset's price following disappointing sales. Greenlight Insights reports low cost headsets sell better than the high-end ones and expects the VR industry to grow into a major global marketplace by 2021, mainly due to drops in prices.