News
video games
31 May 2023, 12:42
New Cozy Survival RPG Gains Popularity on Steam [UPDATE]
Yesterday's launch of Above Snakes can be considered a success. The game is collecting good reviews on Steam, mainly due to its unusual approach to survival gameplay.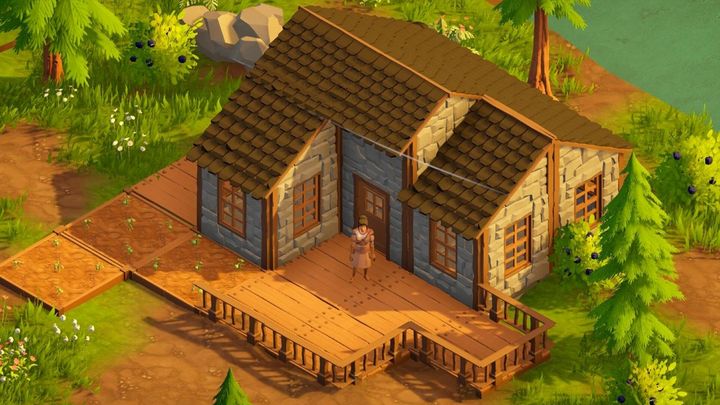 Post-release development of Above Snakes impresses. In just a few days, the developers have produced four updates, including two of fair size. They include improvements in gameplay balance, improvements in the combat system or mechanics related to growing crops. Quite a few bugs have been fixed, and one of the updates introduced the desired ability to move chests with a hammer.
Yesterday saw the Steam launch of Above Snakes, a survival strategy game set in the Wild West. Judging by the reception, the devs may be pleased with themselves.
The game is available exclusively on PC.
It can currently be purchased on Steam 10% off to celebrate the release. On June 1, the amount will be raised.
Above Snakes is meeting with a warm reception so far. On Steam, 79% of user reviews praise the game.
The game also achieves quite good, for a game of this caliber, activity results - the release day record was 2124 concurrent users.
Above Snakes - advantages and disadvantages of the cozy survival game
The first reviews provide a pretty complete picture of the game.
Players mainly praise the interestingly designed gameplay, in which we create the explored world ourselves, unlocking more areas of the map by paying for them with resources.
Good reviews are also received for the great freedom and execution, as well as the storyline.
The main criticism is the low level of difficulty - some players claim that the game is simply too easy and this harms the survival nature of the gameplay.
Below we quote some reviews from Steam:
"The game offers a high degree of freedom and eliminates time pressure, creating an immersive experience for solo players."
"If you're looking for a quiet survival game with a story, this might be the game for you. I love the tile mechanics that enable you to build your own world. There is a cool progression in the game that made me feel good every time I unlocked something new. Cooking was also fun, as you can play around and discover your own recipes.
However, if you're expecting hardcore survivalism, you won't be satisfied with this game."
"It's a cool variation on the survival RPG genre, in which you create various grid-based biomes to fill the world as the story progresses. Most of the systems work well, except maybe the menu/interface, which takes some getting used to, but it's not bad."
"Above Snakes looks nice and works well, and building your own map is a cool concept. However, this game lacks any real challenge and doesn't have enough building / exploration options to make up for it."
Finally, it is worth quoting the game's system requirements.
Above Snakes - minimum requirements for PC
Processor: Intel Core i3-10100 / AMD Ryzen 3 3100
Graphics card: Nvidia GeForce GT 1030
DirectX version: 10
RAM: 4 GB
Disk space: 4 GB
Operating System: Windows 10 64-bit
Above Snakes - recommended requirements for PC
Processor: Intel Core i5-11600K / AMD Ryzen 5 5600X or better
Graphics card: Nvidia GeForce GTX 1650 / AMD Radeon RX 5500 XT or better.
DirectX version: 11
RAM: 8 GB
Disk space: 4 GB
Operating System: Windows 10 64-bit