News
video games
01 October 2023, 22:37
Starfield Players Expose Rain Trick; Devs Respond With Irony
Starfield helped players discover the secrets of rendering rain in video games. Reveal of the "big secret" became a source of jokes for the developers.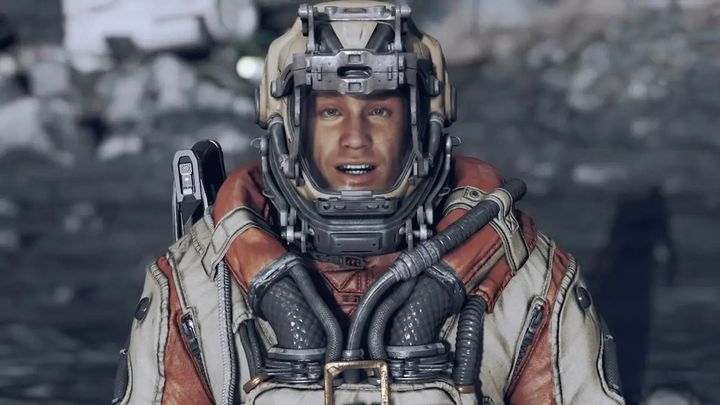 Source: Bethesda Softworks
i
It's no secret that in the world of gamedev, developers often use all sorts of tricks designed to optimize game performance without compromising the experience. Starfield is no exception to this rule.
Recently, a discussion heated up on Reddit after one player discovered using photo mode that in Bethesda's work it rains only in the character's immediate surroundings. The great enthusiasm accompanying the observation was quickly extinguished by the game's developers, who explained that this procedure, which looks like it was taken straight out of a children's cartoon, is nothing new in the industry.
Thomas Francis, chief visual effects artist at Red Hook Studios, in an interview with editors of Polygon revealed that rain in video games is usually attributed to the camera. This technique is used to improve optimization, as generating rain particles, snow, leaves or blades of grass throughout the game space would be too resource-intensive.
The discovery of this obvious technique has also become the subject of many humorous comments from game developers.
David Szymanski, creator of, among others, Iron Lung, wrote: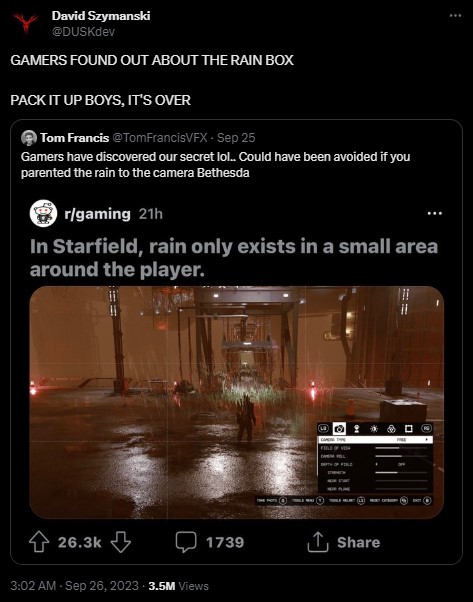 Source: X/Twitter, @DUSKdev.
In turn, Collin MacGregor, world designer at Bungie, ".revealed" that moving the elevator and other gameplay elements are often cleverly hidden loading screens.
The aforementioned Thomas Francis also added his two cents, claiming, that players wouldn't have known the developers' "secret" if Bethesda had tied the rain to the camera rather than the player character. And if you still haven't got enough of these sensational revelations, in another post the developer revealed that Super Mario Bros. uses the same graphics for clouds and bushes.
Recall that other tricks of the developers have also been "discovered" in recent months. Some time ago, social media was abuzz about deceptive loading bars.