News
video games
13 July 2023, 14:37
Wars in Total War: Pharaoh Will be Quite Challenging Due to Nature of the Maps
The devs of Total War: Pharaoh talked about how the game's terrain and weather will affect battles.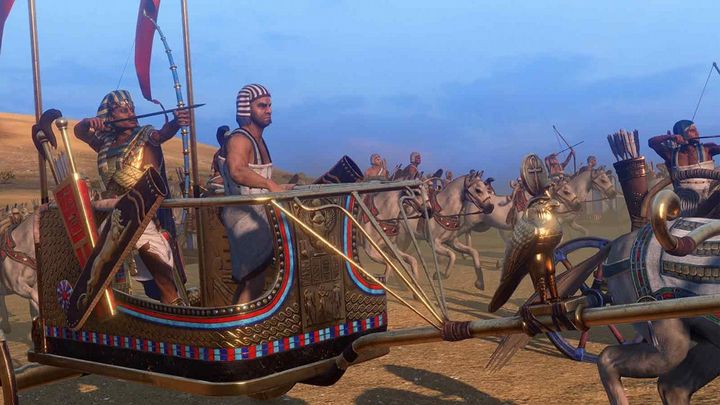 Creative Assembly has released a new video that focuses on showcasing the mechanics involved in using terrain in the strategy game Total War: Pharaoh.
As you know, most skirmishes will take place in the desert. For this reason, heavy units will sink into the sand, which will reduce their movement speed and effectiveness.
Therefore, a key role in the gameplay will be played by the proper use of light units, which, however, will traditionally have little resistance to damage.
Interacting with all this will be the weather system. If it starts to rain, the entire army will become slower, especially when passing through parts of the map where sand has turned into mud. Hot weather, on the other hand, is expected to cause the army to tire faster.
The battles will also be affected by other weather conditions, such as fog and storms - both ordinary and sand.
The weather will not only make the gameplay more difficult, but also open up new tactics. For example, sandstorms cam be used to hide the movements of our army from the enemy.
As befits a game about ancient Egypt, there will be no shortage of chariots in the battles.. They will be divided into three categories - light, medium and heavy. Here, too, terrain and weather will play a key role. For example, heavy chariots will quickly get stuck in the mud, so you will have to learn to choose the types of chariots to suit the conditions on the battlefield.
Total War: Pharaoh is heading exclusively for PC. The game's release is scheduled for October 2023.
The game will be available for purchase both on Steam, as well as on Epic Games Store. Pre-orders have already started in both stores. Beyond the standard edition, two special editions are also available - the Deluxe Edition and the Dynasty Edition, offering various additional features.