Crusader Kings II - A Game of Thrones v.1.9 - Game mod - Download
The file A Game of Thrones v.1.9 is a modification for Crusader Kings II, a(n) strategy game. Download for free.
file typeGame mod
file size276.8 MB
last updateSunday, July 14, 2019
downloads1653639
downloads (7 days)95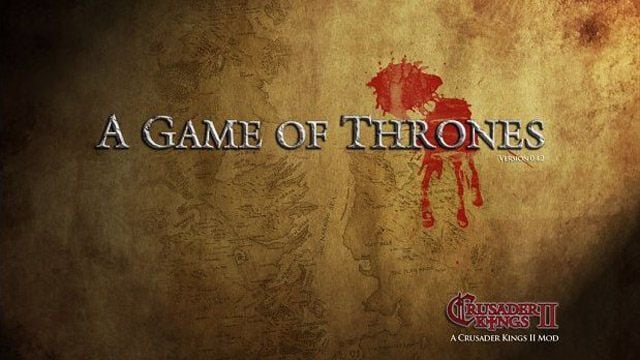 A Game of Thrones is a mod for Crusader Kings II, created by CK2:AGOT Development Team.
What is this mod about?
A Game of Thrones (AGOT) is a full-conversion mod for Paradox Interactive's Crusader Kings II (CK2). Set in the world of George R. R. Martin's A Song of Ice and Fire (ASoIaF) fantasy saga where lords great and small vie for control over the lands of Ice and Fire, from Westeros and the Seven Kingdoms in the west, to Qarth in the east. The mod takes its name from the first book in the series, as well as the "game" of plots and politics the ambitious and hopeful are said to be playing in their struggles for supremacy. Currently players are able to choose to play from any start date in the 300 years from before the Aegon's Conquest to the beginning of the fourth book (A Feast for Crows).
What makes this mod different from Crusader Kings II?
Besides the obvious, which is a new interactive rendition of the fictional low-fantasy medieval setting of ASoIaF, you'll notice a host of changes that build off the framework of the original (vanilla) CK2 game. In CK2, players battle against other rulers for control of various independent realms and kingdoms. In AGOT, while the potential exists for the realm to fragment into multiple kingdoms, in practice it very rarely happens. Players instead fight to control just one throne – the Iron Throne, forged by Aegon I Targaryen "the Conqueror" almost three centuries prior to the events of this saga. Additionally, events from CK2 have been adapted to fit within the lore and flavour of A Song of Ice and Fire. Some notable new features to mention; A new dueling engine so that lords may fight each other in personal combat on (or off) the battlefield; An all-new method for personal interaction between characters; Pets that (sometimes greatly) aid characters in battle; And a host of less significant (but no less important) features that together help create a solid and serious effort at bringing Westeros to life for gamers. The mod also utilizes features from various other mods, listed in detail in the credits section.
While CK2 and AGOT contain Role-Playing (RP) elements, this mod is not a full narrative recreation of the books. Just like CK2 and other grand strategies, the mod is dynamic in allowing players the freedom of exploring "What If?" scenarios. What if Robb captured King's Landing? What if Stannis and Renly joined forces against Joffrey? What if Rhaegar Targaryen had killed Robert on the Trident instead of the other way around? All these things can, and may, happen in the mod, with or without the player's choice. No game will ever be the same, whether you win or you die.
This mod offers an installer.
see more
Popular files for Crusader Kings II