Hearts of Iron IV - Endsieg: Ultimate Victory v.0.1 - Game mod - Download
The file Endsieg: Ultimate Victory v.0.1 is a modification for Hearts of Iron IV, a(n) strategy game. Download for free.
file typeGame mod
file size824.8 MB
last updateMonday, September 4, 2017
downloads9049
downloads (7 days)66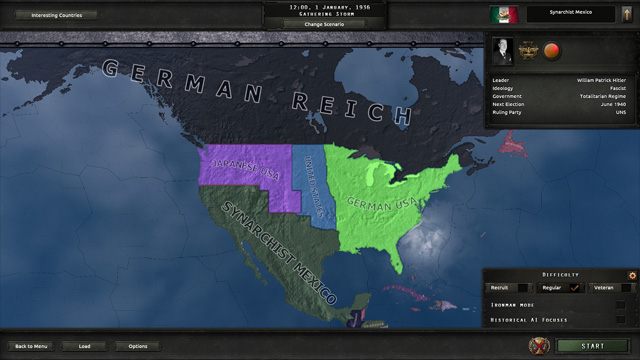 Endsieg is a mod for Hearts of Iron IV, created by Sebastialoz19.
Description:
Germany Wins ww2 and conquers almost the whole world like Man In the High Castle.
Germany after successfully invading the USSR and annexing half of it it gets puppet by Germany so the Russian empire begins and that means now they can focus to take out the allies after the allies fail d day Germany Invades England and after there fall they focus on USA but how will they get over there it will to risky to do a naval invasion so they decide to Start a civil war in mexico with fascism (they stage a coup) and USA supported the democratic side but Germany send troops to the fascist side and after fascist victory Hitler makes hes nephew William Patrick Hitler the ruler of fascist mexico. Germany uses mexico to make a ground invasion to the USA and a success after the fall of Washington Mexico gets to keep the territory that USA took from mexico in the Mexican american war and after that USA was made a puppet by japan and Germany one half was Japanese puppet and the other half was a Germany puppet after that allies gave up to the axis and heres the plot: after the axis victory a difference divides the axis between Germany Japan and Italy Factions: Germany: Achse Italy: I veri assi Japan: Ajia no jiku and a war between the 3 factions will start countrys like Puppet England Mexico Puppet Russian and puppet german usa and puppet japanese usa Have a event to choose which faction will they choose
To install
Extract into "My Documents\Paradox Interactive\Hearts of Iron IV\mods" and launch through game's menu.
Report problems with download to support@gamepressure.com
see more
Popular files for Hearts of Iron IV