S.T.A.L.K.E.R.: Call of Pripyat - Roadside Picnic Addons Pack v.1.1 - Game mod - Download
The file Roadside Picnic Addons Pack v.1.1 is a modification for S.T.A.L.K.E.R.: Call of Pripyat, a(n) action game. Download for free.
file typeGame mod
file size2276.2 MB
last updateSunday, April 19, 2020
downloads2504
downloads (7 days)12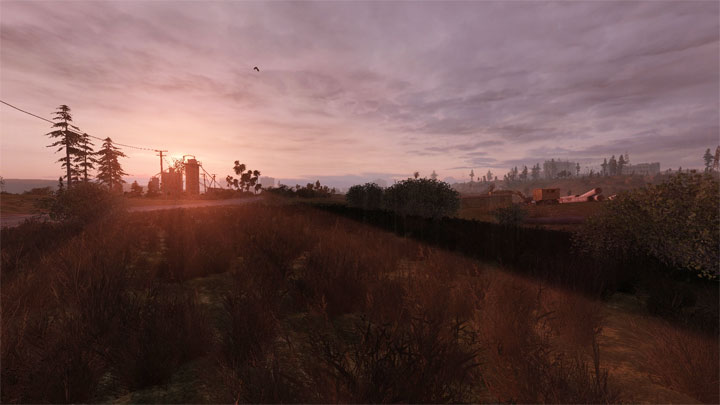 Roadside Picnic Addons Pack is a mod for S.T.A.L.K.E.R.: Call of Pripyat, created by punk0x29a.
Description (in authorís own words):
Addons Pack designed to make the CoC more immersive and more faithful to the original Strugacky's/Tarkovsky's works.
Hi there!
This pack has been growing within my CoC installation for quite a while now... After watching some YT reviews in which folks had trouble with applying addons, I've decided to share it.
Hopefully you'll enjoy it.
Personally, I'm a big fan of the Roadside Picnic. I find this novel to be one of the most inspiring pieces of literature I've ever stumbled upon in my lifetime. Also - via the very first S.T.A.L.K.E.R. press announcment back in 2001 - I've heard about the book for the first time, obtained it (which wasn't easy at all back then, almost like finding an artifact) and immediately got hooked on the whole post-apo genre.<br>Due to this, I feel kind of obligated to give something back. With help of many great CoC addons, I've rebalanced quite a few aspects of the gameplay to fit the book's narration and atmosphere.
This pack is definitely not aimed at hardcore veterans. It's made mostly for the rookie players. Yet, IronMan (permadeath) mode is highly recommended, not to say - required... Immersion was my primary goal when compiling this pack, and no other gameplay paradigm yields comparable amount of emotions for the player to experience.
All right, koniec pieprzenia o dupie Marynie, time for the interesting stuff:
1) This mod compiles contents of quite a few addons into one - relatively stable - package; included:
a) Immersion:
- Living Zone by Skelja (†Moddb.com†)
AI is working simultaneously in all areas right from the start. In addition to the unlocked AI, this addon makes NPC's more life-like and adventurous, less predictable... There are no safe-zones in The Zone.
- DoctorX Questlines 1.24 (†Moddb.com†)<br>- Modified Pay for DocX Questlines (†Moddb.com†) (tweaked a lot).
The reason is giving the player some goal at the beginning. It's rather superficial, sure, but it does the job very well. It doesn't get in your way of aimless wandering, so I'd call it a non-intrusive enhancenment.<br>And, when you run out of "important" stuff to do, you always have a place to visit... Non-zero-sum game scenario.
- Dan's Desolation Mod (†Moddb.com†)
Set both human and mutant populations to 0.25 in the main menu to feel the effect.<br>In the book (and the movie) there were no NPCs in The Zone. Yet, it's another universum, another rules, another medium... All and all, The Zone with more space to breath is the way I like it.<br>Nothing beats the view of a lone zombified stalker moaning far away on the roof of an abandoned train, in the fog, when the sun is rising on the horizon at five o'clock in the morning...
- Dan's Faction Overhaul (†Moddb.com†)<br>- DoctorX Dynamic Faction Relations 1.8 (†Moddb.com†)
First one makes factions mechanics (and some related AI behaviour) less nonsensical, the other one adds to the unpredictability factor.
- Muffled PDA/Geiger Counter 1.2 (Moddb.com ))
- Inaccurate Zombies (Moddb.com)
- Patched Gore Mod 1.2 (†Moddb.com†)
WYSIWYG. Small, yet ingenious tweaks.
- Sound Restoration V2b2 (†Moddb.com†) ( tweaked a lot)
SR V2b2 adds a lot more variety to the game's soundscape, but it was way too loud in its original form. All the included sounds have been modified by hand using ffmpeg/sox to be truly ambient. When you sit on the cement factory roof silently at noon, you can barely hear distant moaning and gunshots... But you can feel them all the time.
- Smurth's Dynamic Hud v3.2.2.8 (†Moddb.com†)
No introduction should be required here. SDH is a must-have. Best played with the crosshair turned off.
b) Gameplay:
- Deadly Anomalies V1.04 (†Moddb.com†)
In the book, falling into an anomaly meant instant death. D.A. addon gets as close as it gets, and it scales according to the difficulty, too.
- Outfit Addon 1.4.6 (†Moddb.com†)<br>- Arsenal Overhaul 3.1 (v.5) (†Moddb.com†)
Due to the variety, ammo is somewhat harder to obtain and, therefore, more valuable. Trading - even when you're getting ripped off - becomes a must, especially before taking a long trip into The Zone.
Dan's Monster Mods (†Moddb.com†) ( partial )
Not fully merged - only the stealth part has been incorporated. Moving silently and staying in the shadows can give you a huge advantage when executed properly.
c) Graphics:
- Structures Redux 1.1 (Moddb.com†)
- Absolute Nature Redux 1.17 (Moddb.com† )
- S.W.T.C. - Call of Chernobyl Edition 1.11 (Moddb.com†)
- Enhanced Sunsets and Sunrises 1.08 (Moddb.com†)
No DX11 enhancenments here, so you must apply one on your own if you want to. On the other hand, it works platinum under WINE software.
2) In-house modifications:
a) Custom damage balancing
Weapons have more punch. For everyone. And let no one be left behind... Nerfed weaponry in S.T.A.L.K.E.R. series is the most frequent complaint I've heard.
Upgrading your gear in terms of armour is somewhat meaningful now (long, dangerous trips to Red Forest just to get that silly +3% you can't even feel, anyone?). While more kevlar on your body does not make you invincible, it gives you a bit wider margin for surviving all those pesky snipers hiding in the bushes near Skadovsk, or the horde of zombies ambushing you from behind that buidling... Generally speaking, fully upgraded armor actually helps you deal with situations for which you can't be prepared. Still, don't even dream about getting out alive from things like point-blank machinegun fire...
b) Loadouts:
Every faction starts with a short arm suited for that particular group, and a random long arm.
Loners, Bandits and Clear Sky start with basic novice outfits - from the dialogue it seems that those are newbies, ill prepared and disregarded by their superiors. (Well, maybe except for the Clear Sky, but we all know how rich in resources those guys are...)<br>Duty, Freedom and Mercenaries start with regular armors; they're an experienced, reliable people, or at least that's what I get from what the NPCs are saying.<br>Monolith member starts as a regular monolithian, with somewhat limited weaponry due to the scripting limitations I hope to overcome one day.<br>Soldiers are equipped with regular military uniform, as every soldier does.
c) Artifacts:
Based on Dan's Artifact Balance (†Moddb.com†), but tweaked beyond recognition. Artifacts are rare and very expensive, just like in the book. Also, they're more faithful to their relevant in-game descriptions.
4) Installation
Just copy the gamedata/ folder to fresh CoC's 1.4.22 root. Copy appdata/ as well if you're interested in my default config scheme (DeusEx inspired).<br>As for the HUD configuration, check out SDH page for detailed explanation.
3) Known bugs:
Game can work like a charm for six hours straight, and then crash to desktop randomly with no error message at all. Be sure to limit QS number to 1 and save very often (no issue on IronMan, right?).
Some quests seem to be stuck when reaching certain points (mutant hunts, escort mission and such). Quick save and quick load helps in 99% of cases. Also, ask major characters for side missions before taking DocX's ones, as the sidemissions dialogue options will get disabled until "important" quest completion.
Don't get into tight spaces with your followers. Run towards bunkers doors, or be prepared for lots and lots of jiggling around... Also, some NPCs like to spawn in wrong places when starting a new game - just give them some time to get to their posts, they'll reach them eventually.
Some traders can be tricked for infinite money. I hope to fix it one day, at least if it won't get fixed beforehand. To abuse or not to abuse - I'll leave it to the player's conscience...
Unreachable stashes are most probably a vanilla issue. Here's a quick&dirty hack for some of them:†Moddb.com
This pack is incompatible with additional monsters (tark, fish, komar, you name it). It'll crash for sure, but you're very welcome to try to get it working.
Game can crash when entering Truck Cemetery: Add -noprefetch CLI switch to the game launcher, it'll work then.
And, last but not least: spawning in front of enemies when moving between areas...<br>Unfortunately, I don't see an easy way to overcome this one. Better back up your save files on IronMan before every transition, or have your finger ready to press the QL button as fast as possible... Nevertheless, with this pack issue is far, far less noticeable/severe/notorious...
4) Unknown bugs:
I've been playing this pack on my own - obviously - so there are probably countless bugs left unnoticed. Game balancing can also be way off for some of you.<br>Every piece of feedback is invaluable.
Last update: Sunday, April 19, 2020
Genre: Action
File size: 2276.2 MB
see more
Popular files for S.T.A.L.K.E.R.: Call of Pripyat