Mount & Blade: Warband - Necromancer! v.2 - Game mod - Download
The file Necromancer! v.2 is a modification for Mount & Blade: Warband, a(n) rpg game. Download for free.
file typeGame mod
file size152.5 MB
last updateWednesday, October 2, 2019
downloads1316
downloads (7 days)16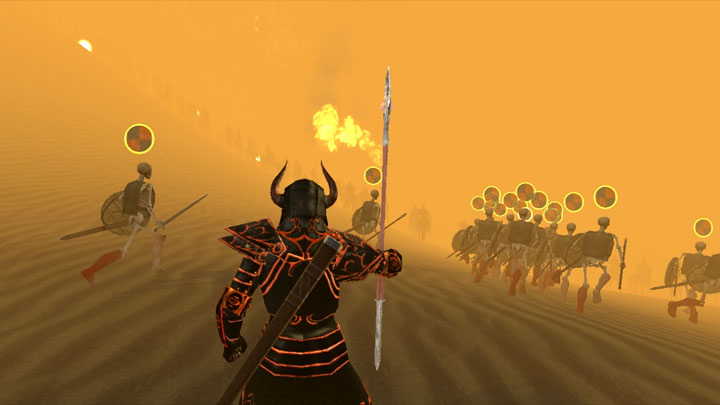 Necromancer! is a mod for Mount & Blade: Warband, created by Dreamy Folk.
Description:
Ever wanted to be a necromancer and control hordes of undead - turn calradia into a deadfest? Now you can!
It is a minor project you get to play a badass Necromancer! Rain down meteors, summon skeletons, control hordes on world map, corrupt lords, teleport and your own tower!
Welcome to Necromancer project! It is the first project of one of the upcoming "Roleplaying" series Dreamy Folk is working on. In this mod, you assume the role of a badass necromancer with supernatural powers such as raining meteors of fire, summoning undeads, corruptings lord (controlling them at world map), teleportation, creating illusions of yourself and AOE swirl - and what-not!
Your goal is to dominate calradia in 90 days. Time to kick some ass with the powers you have!
Full Feature List
Corrupt lands! - Create a corruption in any part of the world, non-lord parties who go through it will turn into undead
Decapitation
Create illusions of yourself and let them fight for you!
Teleport!
AOE damage!
Control a horde of minions!
Control lords! - Leave a sphere of corruption on world map, if a lord passes through it - he will be caught and will be joined your faction from that day forward...
Summon undeads - Summon undeads that will fight for you -
Slow down enemies around you, cooldown 15 sec -
Teleport ahead, cooldown 30 secBuy souls! -
Every enemy that fall in battle will be able to be bought in well of souls in keep
Manage your own keep, Dark Tower - Throne scene. -
Buy souls. - Spawns undead parties.Run meteors down to your enemies!
Raise dead in world map. Travel around the map and raise those who recently fallen fighting others.
New visual effects!
Skies will change!
Your own dark tower!
Cinematic!
New music!
New artwork!
New badass items!
To install:
Extract into "…MountBlade Warband\Modules" and activate in launcher.
Last update: Wednesday, October 2, 2019
Genre: RPG
File size: 152.5 MB
see more
Popular files for Mount & Blade: Warband