Game preview
23 April 2021, 09:07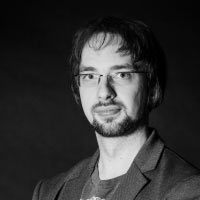 author: Adam Kusiak
Elite Dangerous: Odyssey Alpha Preview - Back "to Earth"
After years, fans of Elite Dangerous: Odyssey finally get the space legs – they can get off their ships and head off to fight or explore the world on their own. Odyssey is a journey into the unknown – also for the developers from Frontier studio.
Slated for release: 19 May 2021.
This text was based on the PC version.
I feel like there was a stagnation in space simulators until developers played Mass Effect and realized it was high time to start making games where we could get off the ship and explore planets. Now the "space legs" are the main appeal of Star Citizen and Elite Dangerous: Odyssey – people just want to experience the scale of the universe first-hand.
The alpha tests of the Odyssey expansion launched at the end of March and we are now in the third phase. You can walk through ports yourself, try and do a few missions, engage in combat, and exploration with the purchased ship, among other things. This last element is an important one, as the initial restriction to the painfully slow flying cab used to be a unique test of patience for testers.
Elite has received a definite graphical upgrade, and while the new lighting really elevates the atmosphere, you can't really call Odyssey's alpha optimized – frame rate drops happen even at the station bar, and that has to be addressed, otherwise VR will be killed. However, you have to admit that the moment when we stand in the hangar for the first time next to the huge Cobra Mk III is no doubt impressive – in fact, I've been waiting for this moment for seven years.
Exiting the ship – at last.
The longer I played, the more doubts there were as to whether adding an FPS game to a space simulator – one that's often described as wide as the sea, but shallow as a puddle – is the optimal development decision. At the start, it turns out that managing your inventory in Odyssey is a hustle. It's hard to know what we're actually wearing, what the statistics are, where we can pick out store-bought gear. The small compass in the corner of the screen isn't the best choice for navigation either. The game didn't come with a proper tutorial that would allow you to comfortably learn the controls and operation of specialized equipment.
Use energy weapons to take down shields.
The space station looks great, there are dozens of NPCs in the lobby soliciting dubious quests like "kill 12 guys from faction X," "steal a hard drive," "hack the command center" – very black-market-like. Tasks that involve stealth are among the more interesting ones. They require caution and good knowledge of the building layout in the complex compounds you're infiltrating. Location design is quite coherent – buildings have sources of power, quarters, restrooms, security rooms... If you only please, you can cut off the power and try to take advantage of the chaos.
The interiors are not particularly diverse, but well – it does look as if someone was living there.
First thing after landing – engage personal shields. For some reason, it doesn't happen automatically when we take damage. Combat seems like a mix of ArmA and The Division; our character is quite stiff, head rotation evokes simulators (with TrackIR support), but with the jet-pack and weak gravity we can sometimes jump exceptionally high. Enemies are mostly sponges, especially if you're not using energy weapons for shields and ballistic for HP – but that's nothing new in shooter PvE matches. Perhaps in time there will be elements more typical in proven FPS games, such as faster switching weapons, for instance.
Every situation where I encountered another player raised my excitement a notch, even if they opened fire right away. It's worth remembering that those looking for action straight out of an online shooter can head to conflict zones, where there are 12 vs 12 battles mixing AI and live enemies waiting. It's mainly about knocking your opponent's points down to zero by killing enemies or occupying locations. The mode turns out rather average and I suspect that after a few attempts, this tweaked team deatchmatch will simply get boring.
Enlist! Fight in 12 vs 12 battles!
Ultimately, I can't shake the feeling that Elite's world is procedurally generated out of frugality rather than the desire to provide a unique experience. Exploration of celestial bodies on foot is kinda bland, scanning and minigames create the impression of interacting with a more difficult No Man's Sky, which is quite a disappointment, especially since the flora we explore is not very interesting.
Elite Dangerous: Odyssey still has ways to go, and Frontier needs to realize all its might if it wants to meet exorbitant expectations. If that doesn't happen, the space legs will remain an expensive activity, a curiosity, a bit like the SRV rover from the Horizons add-on. The release is still scheduled for May 2021.
Adam Kusiak | Gamepressure.com