Game preview
03 September 2019, 18:01
author: Darius Matusiak
A wannabe fighter pilot, racing driver, and a spec-op; an adventurer and a space marine – hence, a gamer. I've been playing games since Wing Commander, and writing since Destiny.
Ghost Recon Breakpoint – A Total Game to Suit All Tastes
Ghost Recon: Breakpoint is a total game – a production that ambitiously aims to combine all the current fads and satisfy everyone. Is it even possible to create such a game? And if it is, is there a risk of saturation?
Read the review Ghost Recon: Breakpoint Review – Even Anthem was More Compelling
This text was based on the PC version.
There's a prevailing opinion among gamers, stating that if you've played one game from Ubisoft, it's as if you played them all. The French publisher has truly mastered the formula of open-world games to perfection, and it's hard to deny there are aspects of these that simply work beautifully – after all, they're a lot of fun. Things are similar with Ghost Recon: Breakpoint, in which the formula of Wildlands was expanded with a lot of elements from The Division 2 and Assassin's Creed: Odyssey, practically transforming the new Ghost Recon into a looter-shooter. Can you take this sort of combining the mechanics even further? You can!
Although I've only spent a few hours with the game, the most accurate way to summarize it is this: if you've played Ghost Recon: Breakpoint, it's like you've played most of the games currently on the market. The sources of inspiration go far beyond Ubisoft's own catalog, making Breakpont one of the most versatile production out there. Some of these additions fit perfectly into the premise of Ghost Recon, others seem a bit forced. The overall perception will mostly depend on our expectations and previous experience... And so, some players will find it to be a huge megaproduction that offers nearly everything one can desire; others – an undistinguishable blend of features that tries to be all of the following:
Anthem
Tomb Rider
Days Gone
The Division 2
Destiny 2
Counter-Strike: Global Offensive
The Crew 2
Forza Horizon 4
PlayerUnknown's Battlegrounds
Call of Duty
any other modern game service
Ghost Recon – looter shooter
Before we take a closer look at the smaller elements featured in Ghost Recon: Breakpoint, it's worth explaining the most significant change in Wildlands – i.e. reorienting towards a looter-shooter. As in The Division 2, each piece of gear is now labeled with a color, denoting rarity and level. Loot chests are scattered around the map, items can also be dropped by defeated enemies. Fortunately, there are no complicated statistics of equipment and weapons – these are as simple as in Destiny or the latest Assassins – we change a level 10 rifle for a level 13 and hence get promoted.
The Division came under great flak for the dissonance caused by resilience of enemies – a common thug in a jumpsuit could take three full mags of 5.56-mm rounds before finally dying. Developers of Ghost Recon: Breakpoint anticipated this problem and went for a compromise. A headshot is always enough to get rid of an enemy (two headshots if they have a helmet). When we get lost in an area with opponents of a much higher level than ours (of course, they have a skull symbol above their heads!), it still is possible, but we also become more vulnerable to their attacks, and we can die in an instant. Hostile forces still have futuristic drones, and they are the mandatory sponges for bullets with a visible healthbar.
The ups and downs of looting
Does it work for Ghost Recon? Chests with loot are, in the end, sort of free lootboxes, and opening them is – nilly-willy – addicting/engaging. We deviate from the path, sneak into a bunker and get a high-level vest and gun – a cheap trick, dare I say, but there's no denying that the mesolimbic dopamine pathway loves it, and we want more. Leveling up thus replaced the tedious resource collection from Wildlands, and this, in a sense, is a welcome change. However, it also comes at a price.
The small, incoherent absurdities are a nuisance. Don't be surprised, for example, if you see someone changing their fancy, military-grade gloves for yellow rubber ones just because they're higher level. You can't play your favorite rifle for the entire game because new levels are only available for other guns. It gets a little worse when people in co-op run off to collect loot instead of shooting at the enemy and completing the mission objectives. Here, unfortunately, there is a gap between the smart mission designs in The Division, where collectables were mostly located between scenes of combat, and the crates with loot could be found in the open world, where engaging in missions was optional.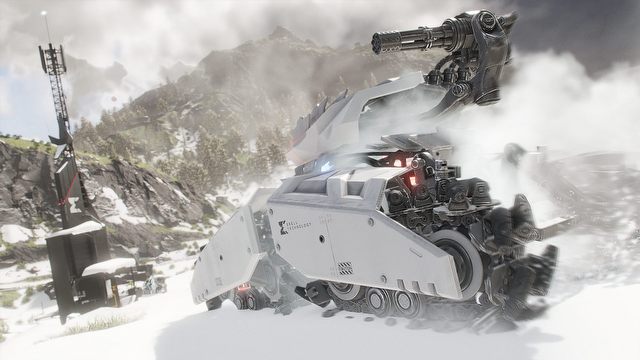 Ultra-modern drones don't fit Breakpoint's theme at all..
Finally, drones, or Ghostrecon's bullet sponges, are a complete, utter misunderstanding. Compared to our commandos, they look like technology from another planet. I felt like I had launched a game of Destiny again, and had to shoot a huge tank on Mars for half an hour. Here the tank is smaller, but the fight looks exactly the same. After 10 minutes, 4 deaths and 8 clips, the little behemoth lost just a small portion of the health bar, and I was in "Exit to desktop" sort of mood.
Would it be faster and more effective in cooperation? For sure. Would it be cooler, more atmospheric? Nope. That's just a lazy method of increasing the difficulty of combat, especially in co-op, which is completely out of line with the authors' concept: "We want you to feel what it's like to be a spec-op." I felt more like a madman, a space marine whose pulse gun was taken away, and he was punished with a rifle from the department of archaeology. Space drones, unfortunately, spoil the integrity of the game world both when it comes to the mechanics, and the storyline.
HEY, CAN I BORROW THAT?
Ghost Recon: Breakpoint not only borrows from other games. Other titles also borrow from Ghost Recon – for example the Gunsmith mode. Known ever since the times of Xbox 360, the ability to customize weapons in a graphically appealing form was recently featured in Escape from Tarkov, or the upcoming Call of Duty: Modern Warfare. It's a pity though that compared to the above games, this mode is a little poorer, and the models of weapons aren't equally good – maybe because of the third-person perspective, which doesn't allow to see the weapons very well anyway.