Game review
18 October 2019, 15:33
author: Christopher Mysiak
An scholar, librarian, wannabe witcher, and a gentleman. Cars, guns and swords are his things, as are deep stories about serious stuff.
Disco Elysium Review – A Hyper-Ambitious, Quirky RPG from Estonia
A depraved cop investigates a degenerate industrial world, where racism is ubiquitous, the specter of communism fuels class struggles, and the good and evil are meaningless constructs. Welcome to Disco Elysium, this year's most ambitious RPG.
The review is based on the PC version.
There is nothing. Only warm, primordial blackness. Your conscience ferments in it – no larger than a single grain of malt. You don't have to do anything anymore.
Disco Elysium in numbers:
a million – the game contains that many words (let that sink in);
thousands – you will complete that many skill tests;
100 – that many tasks/items waiting to be completed/received;
70 – that many partially voiced characters inhabit the town of Revachol;
60 – that many hours it should take to complete the game;
24 – that many abilities define the hero;
5 – for that many years Disco Elysium was developed (plus over a dozen for the conception of the universe).
These are the first words you will see. Blackness truly surrounds them – there is nothing, only the letters. But the Ancient Reptilian Brain that pronounces them is wrong. You'll have something to do in a minute. There will be the roar of a motor coach passing under the cafeteria and you will wake up – you will be brutally dragged out of the warm black. You've had your time. It's astounding it happened so late, really. Nothing could break you out of sleep. Neither the frosty air drafting in through the window that someone (I wonder who?) knocked with a shoe, nor the cursing, drugged kids on the backyard, not even the workers picketing at the gate of the nearby dockyard.
In any case, after the sudden awakening, you will not remember anything – where you are, what you're doing, what's your name. And above all – where's this monstrous hangover coming from. But don't worry about it. Your new partner, lieutenant Kim Katsuragi, who has just arrived – will quickly clarify the situation. In the cafe's backyard, a hangman's been swinging on the tree for the past week. Nobody know who's responsible for his ominous presence, but you, the detective, have been assigned to solve the case – the orders come from precinct 41... Actually, this is your third day on the scene... but instead of gathering evidence and questioning witnesses, you were busy dumping your memory with chugs full of booze and snorting anything you could get. But this ends now.
Time to find the shoe, put on your talking tie (what?), and start looking for answers. Who's to blame for the death of the hangman? Where did you lose your badge (and weapon – but let's not mention that)? Why does almost everyone in this filthy neighborhood look at you with disdain? And why the fuck are you in such a mess?!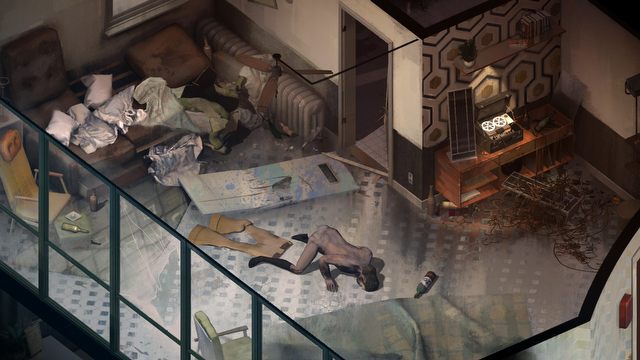 Another day of the great adven... Of your meaningless life.
Wakey-wakey, detective...
That's how Disco Elysium begins. The game is serious, clever, morally ambiguous and, in principle, without elements of the supernatural – albeit full of fantastic, bizarre, and often quirky themes or situations. This is an RPG that's one of the most unusual, ambitious and intriguing representatives of the genre released the last decade, if not more.
It's very reminiscent of the immortal Torment, even though it does its own thing in all aspects. It's an RPG that doesn't really quite fit the definition of an RPG... in any case, not according to our usual set of prerequisites defining this genre.
Let's take combat, for instance. There's none in Disco Elysium. Of course, conflicts arise quite often since the protagonist, as befits a policeman, mettles with other people's affairs, stays around shady individuals, and, from time to time, finds himself in dire straits. But forget about random encounters with random enemies. Forget traditional turn-based fights, or the active pause; using strong and fast attacks, or obtaining deadlier weapons.
ACCORDING TO ANN
After a few hours of Disco Elysium, my hero is dressed in crocodile shoes, yellow bell-bottoms, a mesh t-shirt (+1 to drama!), a police raincoat, and a fedora. Taking the pants and shoes off greatly increased his chances of jumping over the fence without breaking his legs. Jumping with his ass naked came naturally to him, as my hero is an absolute loser. Sometime earlier, while trying to avoid paying off a debt, he rammed a woman in a wheelchair.
As you can see, the first hours of Disco Elysium are a wild ride. I can't wait to see what happens next.
Ann "Kalevatar" Garas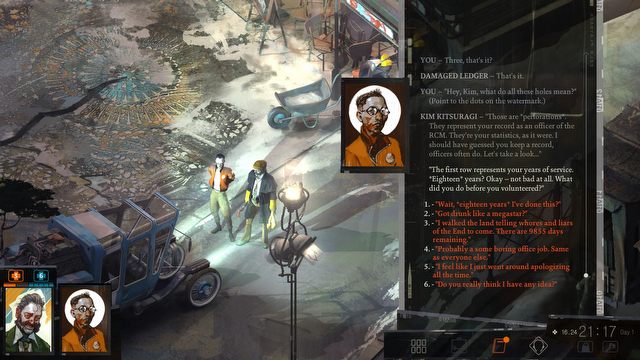 Star-cop, apocalypse-cop, boring-cop, or maybe an apologetic one? What kind of a cop are you? (Note the cool, dynamic shadows).
You've gotta keep your eye on two "health" bars – morale is no less important than HP.
Let's say that you spurred an open conflict. First, I would like to congratulate – it's not an easy task in Disco Elysium. What happens next? The entire "combat" sequence will be resolved through dialogue. The game describes events – or rather the things that cannot be seen by looking at the otherwise sufficiently detailed 3-D character models – and gives the player choices precisely tailored to the conditions.
Here's an example: You decide to enter the yard by force and knock out the muscle, who stands in your way. This begins with a hard test of strength. You roll the dice... Success! The chic animation shows the bouncer getting punched in the throat and bending to his knees. Time stops for a moment, and a dialog box appears, offering further options: a right hook, or a spin-kick? If in doubt – the game will pronounce the inner voice of the protagonist (actually one of the voices) and offer you the best solution after testing various of his skills. And so it goes.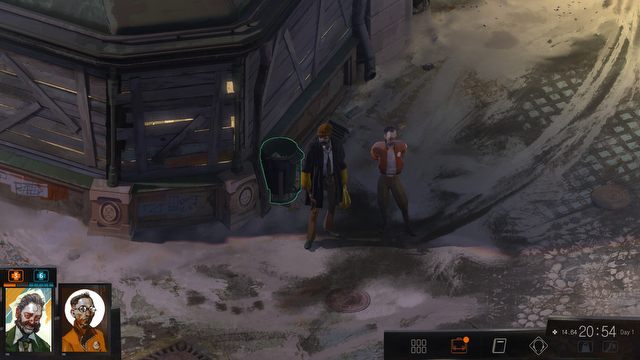 Crowbar and a bag for empty bottles – the basic items needed in every detective's work.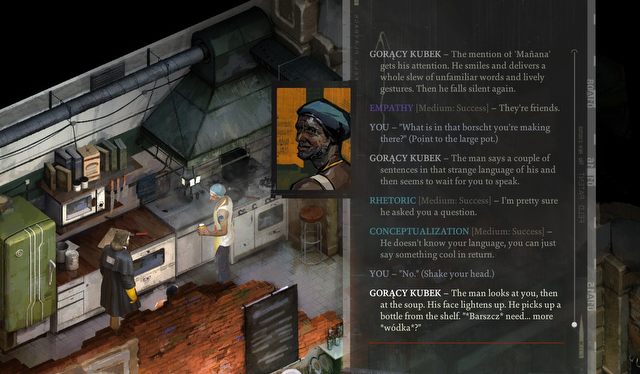 The world is fictitious, but the characters speak in various, familiar accents.