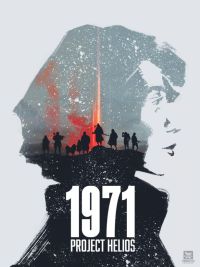 1971 Project Helios is a turn-based strategy. RECO Technology is responsible for the production and release. During the game, the player gets to an alternative version of the story, where the world is in perpetual winter.
Plot
In the reality of 1971 Project Helios, the sun's rays stopped reaching the Earth in 1942. It caused the coming of eternal winter. Since then, the survival of the remnants of humanity has been dependent on a raw material from heaven called Fulgor.
The action in the game takes place almost 30 years after the cataclysm, in the year 1971. The world is ruled by three factions - the military organisation Wintersöhne (Sons of the Winter), the fanatical religious sect of Kaphirites and the No-Man's Land collectors. The second group decides to kidnap Dr. Margaret Blythe, the scientist behind Project Helios, the only hope of saving humanity. A group of eight people form an alliance with the aim of freeing the woman.
Mechanics
1971 Project Helios is a strategy in which we observe the action from the isometric view. In the game , the exploration of each of the nine levels takes place in real time, while the fight is turn-based. The game offers players the opportunity to visit many different locations (e.g. military structures and medieval dungeons), in which they can find equipment for specific heroes.
During the game, the player will fight against representatives of three different factions. Each of them has different tactics and abilities that influence the course of the clash. The location of the skirmish is also important. The player can use the environment to gain advantage over the opponent. Additionally, as the game progresses, new abilities are unlocked for heroes. Their proper use can lead to a strong combination of attacks.
Fulgor also plays an important role in the game. This resource can be used to resurrect fallen heroes in battle and shorten the cooldown times for specific abilities.
Game modes
1971 Project Helios allows you to play only alone.
Technical aspects
1971 Project Helios is characterized by cartoon graphics maintained in dark colors.
PEGI Rating
System requirements
PC / Windows
Recommended: Intel Core i7-6700K 4.0 GHz / AMD Ryzen 5 1600X 3.6 GHz, 8 GB RAM, graphic card 4 GB GeForce GTX 970 / Radeon RX 480 or better, 8 GB HDD, Windows 7/8/10 64-bit
Minimum: Intel Core i5-760 2.8 GHz / AMD Phenom II X4 965 3.4 GHz, 6 GB RAM, graphic card 1.5 GB GeForce GTX 580 / 2 GB Radeon HD 7870 or better, 8 GB HDD, Windows 7/8/10 64-bit