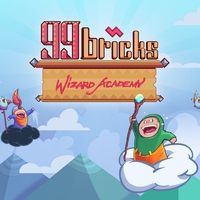 99 Bricks Wizard Academy
99 Bricks Wizard Academy is a puzzle game in which we build a magical tower. Various blocks falling from the sky serve as a building material and we have to adjust them in such a way that they create subsequent levels of the building.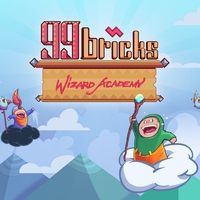 99 Bricks Wizard Academy is a mobile puzzle game maintained set in a fantasy world. The production was developed by WeirdBeard studio.
Plot
99 Bricks Wizard Academy's story plays a secondary role. We play as a young student of magical arts. Since childhood, the protagonist has dreamt of becoming a magician. Currently, he is close to fulfilling these ambitions. He now possesses all the necessary skills and the only thing he lacks is a powerful tower. The player's task is to build it.
Mechanics
The simplified gameplay mechanics can be described as an unusual variation of Tetris. Just like in the Russian prototype, our task is to build a tower using blocks falling from the sky. They have different shapes, which need to be adapted to those already included in the building by turning the block or moving it to another place. Unlike Tetris, however, in 99 Bricks Wizard Academy it doesn't disappear after we get full row. Instead, it becomes a fixed part of the tower, and we start to build it a level higher.
As the structure grows, it becomes more and more unstable. Additionally, from time to time, competitive wizards cast a curse on us which limits the possibilities of the structure's development. Fortunately, we also have magical abilities and can cast spells. The construction has no end and sooner or later the tower must collapse. The game is about trying to beat our records and those set by the community.
Age Rating
age requirements: everyone