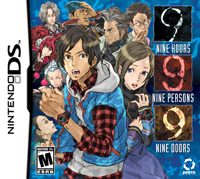 999: Nine Hours, Nine Persons, Nine Doors
NDS
999: Nine Hours, Nine Persons, Nine Doors is a thriller-like adventure game produced by Japanese studio Chunsoft for the Nintendo DS console. The player directs the actions of the participant in a bizarre game in which the stake is to get out of a sinking ship.
Adventure | thriller | logical elements | visual novel | Nintendo exclusive titles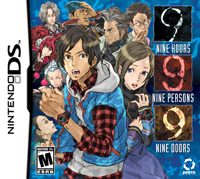 game language: English
game release date for NDS:
10December2009
999: Nine Hours, Nine Persons, Nine Doors is a thriller adventure released for the NDS platform. The game was developed by Japanese studio Spike Chunsoft, and the main designer and scriptwriter was Kotaro Uchikoshi, specializing in visual novel productions such as Never 7: The End of Infinity, Ever 17: The Out of Infinity or 12Riven: The Psi-Climinal of Integral.
Story
We get to know the story of a 21-year-old Japanese student named Junpei. He is intoxicated by a masked attacker and wakes up in a closed cabin. After breaking through the door, he discovers that together with eight strangers he is on board a luxury cruise ship. It soon turns out that all nine of them were kidnapped by a psychopath introducing himself as Zero in order to play a sadistic game. The participants have 9 hours to get to the door number 9. They can't afford to delay for a moment, as the ship sinks slowly and everyone will die after the time limit has passed.
Mechanics
Issued on NDS console 999: Nine Hours, Nine Persons, Nine Doors is an adventure combining two popular subspecies. The first of these is visual novel, the mechanics of which have been taken from the feature sections. In them we passively follow the development of the story presented by means of two-dimensional images and text, from time to time making decisions that significantly influence the further course of history. It should be noted that the game is very non-linear. Our choices can ultimately lead to one of the six possible storyline endings, but only one is "right" and allows the whole truth to be discovered.
The second type are sections modelled on logical adventures from the escape the room category. These fragments were made in full 3D, allowing us to freely explore the location from a first-person perspective. During the campaign, the player gets to the closed sections of the ship time after time and by searching the environment, finding objects and solving puzzles, the player has to come up with a way to get outside.
Technical issues
Visual setting 999: Nine Hours, Nine Persons, Nine Doors is maintained in the anime convention, and the character designs were developed by the artist Kinu Nishimura, known mainly for his many productions by Capcom studio. The soundtrack of the game was composed by Shinji Hosoe, the author of music for Folklore, Ridge Racer 7 and Tekken 6.
Please let us know if you have any comments or suggestions regarding this description.

Game score 9.15 / 10 calculated out of 228 players' votes.
Age Rating
age requirements: 16+