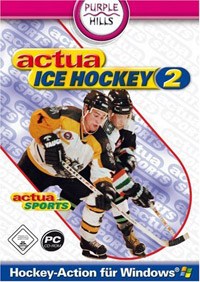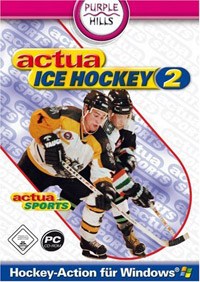 Actua Ice Hockey 2
PC
Actua Ice Hockey 2 is the second installment of a series of sports games simulating ice hockey games. The title was produced by the British developer studio Gremlin Interactive, and players have the opportunity to lead hockey teams from the fictional GHL (Gremlin Hockey League).
Actua Ice Hockey 2

Release Date PC

23April1999
developer: Gremlin Interactive publisher: Gremlin Interactive

game language: English
Actua Ice Hockey 2 is Gremlin Interactive's second approach to the genre of hockey simulations. Initially, the game was developed in cooperation with FOX Interactive, which provided the official license of the American NHL (National Hockey League). However, during the implementation of the project, the cooperation was discontinued. As a result, the development team decided to introduce a fictional league, as well as deliberately modifying the players' names and images.
As befits an ice hockey simulation, players have the opportunity to lead selected teams. The game offers several fun options, including a full season of fiction, the North American GHL (Gremlin Hockey League), a single friendly match or arcade mode to play a three-person team match on a smaller ice rink.
The gameplay mechanics has been significantly improved compared to the first installment of the Actua Ice Hockey cycle. The creators implemented, among other things, a physics system responsible for collisions of hockey players on the ice rink. Tactical options have also been extended. Players have an influence on, among other things, the composition of each Friday, the setting of lines, the speed of attack formation, as well as the players' commitment to defense.
For the purpose of Actua Ice Hockey 2, developers from the Gremlin Interactive studio have thoroughly modernized their own game engine. This translated into more refined character models and smoother rendering of 3D animations.
Please let us know if you have any comments or suggestions regarding this description.
Game mode: single / multiplayer Multiplayer mode: Internet Player counter: 1-2
Media type: 1 CD
Age restrictions Actua Ice Hockey 2: Good for all ages.