The Crew Expansions & DLCs
Game Expansions and DLCs available for The Crew Video Game.
Game Expansions for The Crew
The Crew: Calling All Units
Racing 29 November 2016
Another expansion for the MMO racing game by Ivory Tower. It features a mini-campaign consisting of 12 missions, in which you can play as the other side — the policemen. The gameplay consists of dynamic and spectacular pursuits, and you can now use previously unavailable gadgets and abilities. The policemen can use electromagnetic charges and call for air support, while the other participants use flash grenades and infinite nitro. Moreover, The Crew: Calling All Units adds new vehicles, which you can mod to make them into police cars. Curiously, you can choose the police side in the base game too, but to drive a police vehicle, you need the expansion.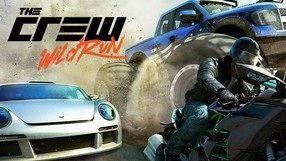 The Crew: Wild Run
Racing 17 November 2015
The first large expansion pack to The Crew, a car racing game developed by Ivory Tower. The title invites you to the so-called Summit - the gathering place for all racing enthusiasts. The game offers several different types of challenges and races (e.g. drag racing or Monster Truck competitions), and each of them is set in unique locations (e.g. the famous Bonneville Salt Flats or Yosemite Valley). The challenges that await you in Wild Run can be tackled with the cars that appeared in the base game, but there are lots of new vehicles as well, including high-performance motorcycles, incredibly fast dragsters, huge Monster Trucks, and drift cars. Moreover, some enhancements were made to the game's visual side.
DLCs for The Crew
PCX360PS4XONE
Speed Car Pack
DLC 16 February 2015
PCX360PS4XONE
Street Edition Pack
DLC 27 January 2015
PCX360PS4XONE
Extreme Car Pack
DLC 21 January 2015
PCX360PS4XONE
Ferrari 458 Speciale
DLC 02 December 2014
PCX360PS4XONE
McLaren 12C Carbon parts
DLC 02 December 2014