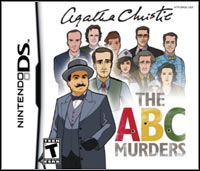 game language: English
game release date for NDS:
13October2009
As easy as A...B...C?
Agatha Christie's A.B.C Murders tells the story of Captain Hastings and Hercule Poirot as they attempt to solve a series of bizarre murders committed by an elusive madman.
Going off the simple clue of the A.B.C railway guide left at the scene of each crime, Hastings and Poirot follow the leads to Andover, Bexhill, Churston, and Doncaster trying to apprehend the killer before the next crime is committed.
Features:
Live through a modern classic for the first time on the Nintendo DS.
Solve the crime in multiple ways, and then solve it again!
Complete mind-bending puzzles!
Use your Investigator's Journal to record clues and notes.
Collect hidden notes found in-game that contains unique facts about Agatha Christie or one of her characters.
PEGI Rating