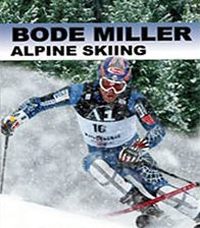 Alpine Skiing 2006
Continuation of a sports skiing simulator issued a year ago by RTL Enterprises.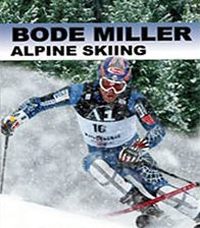 Game mode: single / multiplayer
Race down the Kandahar run in Garmisch-Partenkirchen as skiing superstar Bode Miller from the USA, or show your talent on the world cup track in Gröden.
Starting the Olympic Season
The simulation all-rounder with three different levels of difficulty and an optimized career mode including talent system: Alpine Skiing 2006 offers a finely tuned combination of racing and role play.
The most important thing for becoming a top racer is undoubtedly to plan as perfect a training programme as possible. This is where your managerial qualities are needed, as manifold organizational and training schedule duties are on the agenda.
Snow Flurry !
It is often only hundreths of a second that decide whether you win or lose: fog banks, frozen surfaces, and branches involve quite a few dangers on the steep slopes.
After the finish, the skiing pros lean back and review the replay of their run in the disciplines of Slalom, Giant Slalom, Super G, and Downhill: Just like on TV, they race down the slopes, filmed from different camera positions and with the assessment of two commentators.
New Graphics and Sound Effects !
New graphics and sound effects, smooth animation, picturesque wintry landscapes, and changing weather conditions heighten the degree of realism. The animations were completely reworked and now provide an even more realistic skiing experience.
Clear Arrangement
Thanks to the clearly arranged menu, even the occasional player never loses track of things and can immediately get into the game. Players who want to be sociable can go into multiplayer mode and play a tournament with up to twelve friends via Hot Seat, Internet, or a network.
High long-term motivation
- 32 tracks at 18 marvellous venues. Race on your favourite tracks of this season !
- Uncomplicated Career Mode. Optimize your skier with continual training and better gear...
- Two expert commentators. Hundreds of comments provide an experience which is like a real sports broadcast.
- Extensive skiing equipment. Get better helmets, ski goggles, skis, suits etc. for your skier. The shop has been completely reworked and extended !
- Addictive combination of racing and role-play. Distribute skill points and be an all-rounder or specialist in your discipline.
- League System. Provides long-term motivation: Start at the bottom and make your way to the top.
- Variable level of difficulty. Beginners are forgiven a fair bit. Pros however play in Simulation Mode and are disqualified if they make an error (missing gates etc.).
Similar games:
PEGI Rating
System requirements
Recommended:
Pentium 4 2 GHz
512 MB RAM
graphic card 128MB