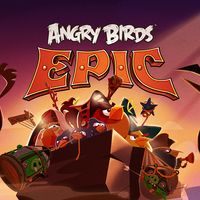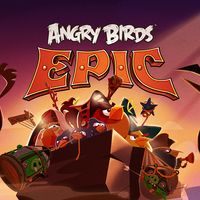 Angry Birds Epic
The tenth title in Rovio's bestselling series of games, which is another stage of experimentation with the proven formula of the series, this time aimed at a simple RPG in fantasy reality.
RPG | fantasy | turn-based | play for free | 2D | humorous | classic RPG
Angry Birds Epic, released on AND, iOS, WP, is the tenth game in the Angry Birds series, developed by Finnish company Rovio in 2009. This time, the creators experimented with the proven formula of the series - they decided on a production referring to the RPG genre and set it in the realities stylized on fantasy. TAngry Birds Epic is based on a free-to-play model with numerous microtransactions.
Plot
The action of Angry Birds Epic focuses on Red, who arrives on the Piggy Island to recover eggs stolen by wicked pigs. During the expedition, he traverses diverse areas - from the jungle to the desert. As the journey progresses, more and more birds join him. The birds also have to face increasingly powerful pigs.
Mechanics
Unlike most RPGs, Angry Birds Epic doesn't offer any exploration - the world map screen serves only to visualize the top-down imposed path, where we fight subsequent battles with hostile forces. We lead a party (each time, not counting the initial stages, we put up three birds with different skills) and take place in turns. The rules are simple - in each turn, we can attack a chosen pig or use defensive abilities (on ourselves or one of our companions). In addition, we have a kind of fury bar, which, when filled (as a result of taking and dealing damage), unlocks the option to use a special ability. We can also use various objects, e.g. potions.
As a reward, we receive random bonuses such as virtual currency and various resources and item blueprints. The former is used to procure various types of "boosters". (e.g. potions), while the latter is used to produce increasingly better elements of equipment, such as weapons or shields. Angry Birds Epic uses an interesting class system - the profession of the hero and their skills depend on the headgear they wear. The game also has a leveling system which allows us to increase the birds' stats.
Technical aspects
As befits the Angry Birds series, Epic offers colorful 2D cartoon graphics.
Game mode: single player
App size:
User score: 6,3 / 10 based on 33 votes.
Age restrictions Angry Birds Epic: Good for all ages.
Angry Birds Epic System requirements
Additional information:
Internet connection is required
Additional information:
Internet connection is required
Additional information:
Internet connection is required