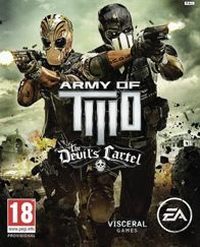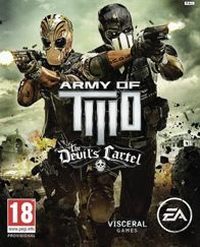 Army of Two: The Devil's Cartel
The third instalment of Army of Two from 2008. The title puts the player in the middle of a drug war taking place in Mexican cities. Just like its previous parts, the game focuses on cooperation.
Army of Two: The Devil's Cartel put out on PS3 and X360 is the third instalment in the 3D, co-op shooter series from 2008. The game is developed by Canadian Visceral Games, known for e.g. the SF Dead Space franchise.
Plot
The plot takes the player to Mexico torn by a drug war. The main heroes are soldiers of fortune codenamed Alpha and Bravo, who are working for Tactical Worldwide Operations (T.W.O.). They find themselves in the middle of cartel wars and in order to succeed, they have to use brutal and uncompromising force against Mexican "Death Dealers." The story is conveyed via cut-scenes and in-game dialogues.
Mechanics
Gameplay is similar to other third-person perspective shooters. The action is observed from behind the character. Levels feature a number of covers which the heroes can use in order to hide from fire that kills quickly. Getting familiar with levels is not enough, as it is vital to communicate and cooperate with your partner, controlled either by AI or another player. The game offers a number of situations which require coordination and covering.
Game modes
The game shows its true potential when played with another user – and it was actually designed for that purpose. You can play locally (split-screen) or online. The game features a customisation mode, so the characters and their gear can be modified. This means that it is not easy to find two identical avatars.
Technical aspects
Just like Battlefield 3, Army of Two: The Devil's Cartel published on PS3 and X360 is powered by Frostbite 2. Therefore, the game does not only offer amazing visuals, but also environment destruction and diverse graphic effects.
Game mode: single / multiplayer Multiplayer mode: Internet
User score: 8,1 / 10 based on 366 votes.
Pre-release expectations: 9.1 / 10 based on 97 votes.
PEGI rating Army of Two: The Devil's Cartel