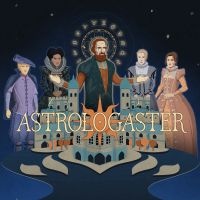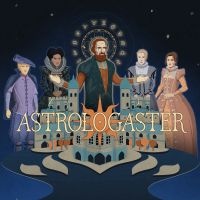 Astrologaster
Astrologaster is a narrative adventure game in which we play the role of Simon Forman, a 16th century astrologer. Trying to obtain a license to practice medicine, the hero heals people and solves their problems by drawing knowledge from the stars.
Adventure | humorous | indie games | 2.5 D | experimental/art | Renaissance
Astrologaster is a narrative adventure game full of specific humour. The game was developed by Nyamyam's independent studio, whose portfolio includes, among others, a genre-related and similarly crafted Tengami .
Plot
The story presented in Astrologaster, as well as the main character's posture, is based on historical events. In 1592, London was struck by the plague, for fear of which numerous doctors left the city. The astrologer Simon Forman remained on the spot and claimed to be able not only to cure diseases, but also to solve other problems that afflict the inhabitants of the metropolis and to predict their future, drawing knowledge about it from the stars. When the plague was over and the doctors returned to London, the protagonist got into trouble. His only salvation is to get a medical license. Whether he succeeds depends on our decisions.
The game does not avoid humour, bringing to mind such great works as Monty Python's Flying Circus or the Black Viper.
Mechanics
Gameplay in Astrologaster consists of talking to the characters visiting Forman and giving them advice on solutions to their problems. Individual customers several times go to Forman, and among them we will find those whose health leaves a lot to be desired, as well as those who face completely different complications. This allows us not only to deal with a variety of diseases, but also to solve more or less serious criminal puzzles. Over time, the fate of patients begins to interweave.
Looking at the stars and looking for answers to the questions we are asked, we get several possible solutions. While there is nothing to stop us from having fun and making absurd choices, we must remember that the decisions we make have consequences and influence the fate of both Londoners and the hero himself. Customers satisfied with the services of a "doctor" will gladly give him their recommendation, and collecting a sufficient number of such letters is the key to obtaining a medical license.
Technical aspects
Astrologaster takes place in a spatial book, from which, after a throw-away, both images of the characters and illustrations of elements of the surroundings open up. The game was maintained in a style inspired by the Elizabethan theatre.
Game mode: single player
App size:
Age restrictions Astrologaster: 12+
Astrologaster System requirements
Minimum:
Intel Dual Core i3
4 GB RAM
graphic card Intel HD or better
2 GB HDD
Windows 8
Recommended:
Intel Quad Core i5
8 GB RAM
graphic card 1 GB GeForce GTX 560 or better
2 GB HDD
Windows 10