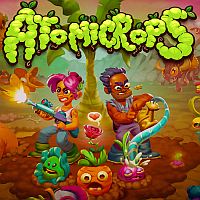 Atomicrops is a title created by RawFury studio, responsible for such productions as Mosaic and Sable. Their new title is a combination of a farm simulator with a roguelike, like a mix of Stardew Valley with Nuclear Throne.
Plot
After an atomic bomb explosion, the world is changing and we have to survive in new conditions. The farm inherited from our uncle will help us with this, where we care about constant access to full GMO food. However, we must be careful, because the side effect of the tragedy is the emergence of feral and mutant monsters willing to consume a dish from our viscera or crops. You can't do this without exploring the wilderness, where we discover a lot of things that make our lives easier.
Mechanics
The main axis of the game is planting the strangest plants that give us food. Here you will find a hyperactive carrot, a smiling family of green peas and lettuce with dough. Animal companions in the form of pigs, cows or hens help us in the cultivation of plants, which will improve and automate many activities related to the care of crops. On the other hand, if we feel that we need even more strange seeds of plants, we will have a journey into the wilderness. We can also discover a lot of treasures there. Books that give us an insight into secret farming techniques, rusty tools that, after renovation, will write down as new and antique garden accessories that will make your work a pleasure.
The second key aspect of the game is the fight. This one is very skillful and taken from the twin stick shooter as previously mentioned Nuclear Throne or HellDivers. The main enemy here are big insects, which will notoriously come to our farm. Any opponent killed in this way can then be transformed into a fertilizer to accelerate the growth of seedlings.
However, even in the postapocalyptic world there couldn't be a lack of a way to relieve the loneliness of our character. That is why we have an opportunity to enter into a deeper relationship with one of the NPCs from the surrounding village to enlist him/her in front of the altar and take the oath of marriage. It is also a good solution in terms of ease of play, because unlike many games with a wedding element, our spouse, instead of sitting uselessly at home, helps on the farm and goes on long trips with us.
Technical aspects
The game is maintained in very vivid and slightly psychedelic colors emphasizing the absurdity of the world, which from the beginning does not want to be taken seriously. The whole was created with the use of pixel-art technique.
System requirements
PC / Windows
Recommended: Intel Celeron G1610 2.6 GHz / AMD Athlon II X4 605e 2.3 GHz, 4 GB RAM, graphic card 1280 MB GeForce GTX 470 / 2 GB Radeon HD 7850 or better, 200 MB HDD, Windows 7/8/10
Minimum: Intel Core i3-2100T 2.5 GHz / AMD Athlon X4 5350 2.05 GHz, 4 GB RAM, graphic card 1 GB GeForce GTX 480M / Radeon HD 6790 or better, 200 MB HDD, Windows 7