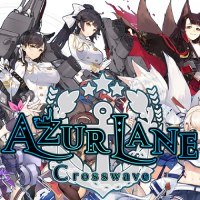 Azur Lane: Crosswave is an action RPG that is a spin-off of the popular mobile game named Azur Lane, developed by the Chinese studio Shanghai Manjuu Technology. However, the game's developers are the Japanese companies Compile Heart and Idea Factory, specializing in jRPGs and known mainly due to the Hyperdimension Neptune series. Original Azur Lane launched in China in May 2017, a few months later the game was released in Japan, where it immediately became a huge hit. A year later, the title was officially released to Western users. The popularity of the franchise led to its adaptation to comics, books and anime series.
Plot
Azur Lane: Crosswave takes place in the world of the mobile original that controls fictional factions that reflect real-world countries such as the United Kingdom, the United States, China, Germany, and Japan. They all formed the title alliance called Azur Lane. However, alien invaders persuaded Germany and Japan to break out of it, creating the Crimson Axis. The aim of the Axis is to gain control of the world by using weapons and technology provided by its mysterious principals. Young girls, anthropomorphic versions of real-life military ships fighting during the Second World War, serve in the ranks of the armies of both sides.
Mechanics
Azur Lane: Crosswave adapts many aspects of the mobile original that should be known to its fans. During the game, we control the selected heroine in real-time, fighting against enemy ships using a variety of special abilities and attacks. The action of the game is observed from third-person perspective. As in the mobile prototype, between missions, we can choose and change the equipment of the ships we command.
Technical aspects
Azur Lane: Crosswave offers colourful cel-shaded 3D visuals powered by Unreal Engine 4. All ships are equipped with recorded dialogue lines during combat and story cut-scenes, provided by Japanese voice actresses.
Similar games:
PEGI Rating
System requirements
Minimum:
Intel Core i5 3.2 GHz
8 GB RAM
graphic card 2 GB GeForce GTX 750 Ti / Radeon R7 260X or better
4 GB HDD
Windows 7 64-bit
Recommended:
Intel Core i7-3770 3.4 GHz
8 GB RAM
graphic card 4 GB GeForce GTX 970 / Radeon RX 560 or better
4 GB HDD
Windows 10 64-bit