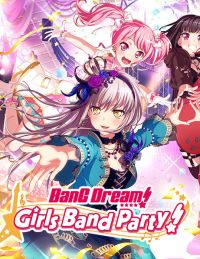 BanG Dream! Girls Band Party is a mix of a classical music-rhythmic game with a visual novel adventure, in which we follow the fate of several rock and pop bands. The developer of the title is the Japanese studio CraftEgg, specializing in productions for iOS and Android devices. The game is a central component of the multimedia project named BanG Dream! started in 2015 by Bushiroad, a company specializing in card games for collectors. Apart from the mobile game, the brand also includes two seasons of anime series, an animated cinema film, numerous comics, books and gadgets. An extremely important role is also played by original music, released on CDs and performed live in concerts by three large bands presented in the series - Poppin'Party, Roselia and RAISE A SUILEN.
Plot
BanG Dream! Girls Band Party takes place in modern Japan. The heroine of the game is Kasumi Toyama, a high school student full of energy, who decides to start her own music band called Poppin'Party, to which she invites close friends. The story has been divided into several parts. The main one focuses on the adventures of Kasumi and her friends, who are trying to organize a big concert for all local female high school bands. The protagonist makes contact with their members one by one. To convince them of her idea, she helps them to solve various problems and conflicts and tries to prove that her band is worthy to stand on stage with them.
The other side scenarios focus on the individual music groups presented in the game, introducing the players more closely to their members. The plot of the title is completely linear and has been prepared in the form known from visual novel adventures. Players observe mainly dialogues and interactions of characters accompanied by animated portraits of the heroines.
Mechanics
Outside the extended feature mode BanG Dream! Girls Band Party! is above all a classic music-rhythmic game, similar in formula to its biggest competitor - Love Live! School Idol Festival. Players can choose from dozens of songs. The majority of them are original songs from the game, and the rest are covers of known anime hits.
In order to start the game we complete a five-person team using collector's cards presenting individual performers. The cards are grouped according to their rarity and usefulness of special bonuses and power-ups activated during the game. We receive them in random packages purchased for virtual currency,
Control is based entirely on the use of the phone's touchscreen. The playing field is divided into several vertical lines. In the rhythm and tempo of the music, round icons move along them, which we have to touch at the right moment. Without making any mistakes we build a combo that multiplies our score. Each song is available in several difficulty variants. The higher it is, the bigger the prizes are waiting for us after passing it.
Technical aspects
BanG Dream! Girls Band Party! has a high quality audio-visual setting. All dialogues are fully dubbed in Japanese. The two-dimensional portraits of the heroines are extremely expressive thanks to their complex and eye-catching animations.
Similar games:
Age Rating
age requirements: everyone
System requirements
Android OS
Additional information (AND): Internet connection is required.
Apple iOS
Additional information (iOS): Internet connection is required.