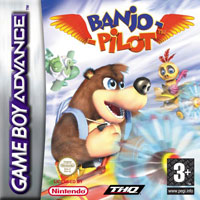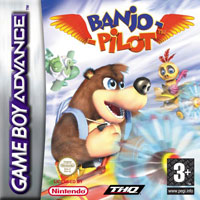 Banjo-Pilot
GBA
A racing game developed by the Rare team, in which we play the heroes of the Banjo-Kazooie series and sit at the controls of various vehicles, fighting for victory on several routes. The title allows you to play both alone and in the company of up to three players.
Racing | TPP | Kart Racing | arcade elements | Nintendo exclusive titles
Banjo-Pilot

Release Date GBA

01February2005
Banjo-Pilot is an arcade racing game developed by Rare. The production was initially developed as Diddy Kong Piloti.e. the continuation of the warmly-received Diddy Kong Racing. After the team found themselves under the wings of Microsoft, its members were forced to replace the characters from the Donkey Kong series with heroes from the Banjo-Kazooie franchise (to which they had the rights). Ultimately, THQ took over the publishing of the game on the GBA console.
Mechanics
In Banjo-Pilot the action is shown from TPP. In the course of the game we sit at the helm of various vehicles and fight for victory on one of a dozen or so tracks dotted not only with obstacles, but also power-ups; skillful use of the latter may change the fate of many a race. The game features nine characters known from the Banjo-Kazooie series. In addition to the title characters, there are Mumbo Jumbo and Jinjo (already available at the start), as well as Humba Wumba, Gruntilda, Klungo, Jolly Roger and Bottles (which we unlock in exchange for the so-called Cheato Pages).
Game modes
Banjo-Pilot includes both modes designed for solo players and a multiplayer mode.
For those who play alone, the devs have prepared the Grand Prix mode, where we take part in a series of races, the crowning achievement of which is the final duel with the boss. In addition, the Jiggy Challenge (our task is to get six so-called Jiggies scattered on the tracks before our opponents do it), fast races on all sixteen tracks and time trials are waiting to be checked.
Up to three other players can be challenged in Head-to-Head mode and in Dogfight mode, battles in which we try to eliminate competitors using a diversified arsenal of weapons.
Technical aspects
Banjo-Pilot features decent graphics, especially for the and GBA title; the visuals adopt the cartoonish style known from the first Banjo-Kazooie released for the Nintendo 64 console.
Game mode: single / multiplayer Multiplayer mode: Player counter: 1-4
Age restrictions Banjo-Pilot: Good for all ages.