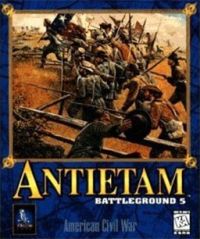 Battleground 5: Antietam
PC
In the next part of their flagship series, the creators of TalonSoft remain committed to the theme of the Civil War. In this version we can recreate the events that took place in September 1862 on the Antietam River. It was the bloodiest day in the history of the United States.
Strategy | turn-based | American civil war | 2D | war strategy | 19th century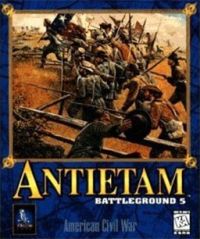 Game mode: single / multiplayer
Multiplayer mode: Internet / E-mail, players: 1 - 2

game language: English
game release date for PC:
31December1996
In the fifth part of their flagship Battleground series, creators from TalonSoft remain at the popular - especially overseas - theme of the Civil War. In this part of the cycle, we can take part in the next battle on the Antietam River, which is important for the Confederates' competition with the EU.
The battle took place on 17 September 1862 near Sharpsburg, Maryland. Commanded by General Robert E. Lee, the Confederacy army was led by George B. McClellana to the Union's troops. A total of 23,000 soldiers died over Antietam in one day of fighting, and that was the bloodiest day in the history of the United States. It was also considered to be a breakthrough for the fate of the war, because from that moment on - despite a number of minor clashes won - the advantage of the southerners began to systematically decrease.
Battleground 5: Antietam does not differ in the slightest degree from the established schemes of the series. Again, we can recreate the entire course of the battle, or play one of more than 20 individual scenarios, divided into eight modules. In a conflict, we can, of course, stand up for both the Union and the Confederates. According to the tradition of the cycle, realism and accuracy of the reconstructed battlefields and uniforms dominate. For lovers of competition with a living opponent there is a possibility to fight battles via modem or "play-by-email" system.
The mechanics and frame of the game remained unchanged. It can be said that the creators from TalonSoft completed their experiments on the second part of the game, serving, along with the next scenes of the game, sets of scenarios differing only in the place and time of the action. However, we still have to deal with a racial turn-based strategy, designed for seasoned players. The unique realism of the series is complemented by the Battleview engine, a series of film inserts and a climatic soundtrack.
Please let us know if you have any comments or suggestions regarding this description.
Age Rating
age requirements: everyone
System requirements
PC / Windows
Recommended: 486DX 33 MHz, 8 MB RAM, 5 MB HDD, Windows 3.x/95