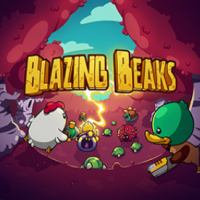 Blazing Beaks
Blazing Beaks is a dynamic top down shooter combined with a roguelite game for both single and multiple players, in which we kill a variety of opponents and collect special upgrades.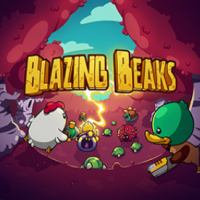 Game mode: single / multiplayer
Multiplayer mode: local network, players: 1-4
Blazing Beaks is a demanding roguelite, in which we play the role of a sweet animal, through colourful locations to the teeth full of monsters and mutants, which we have to overcome with weapons. The game offers several gameplay modes for one as well as for several players. The studio responsible for the title is Applava.
Plot
Blazing Beaks takes place in a world where evil has come to visit, in the form of dangerous monsters waiting for the lives of anyone who stands in their way. At the same time, it is connected with a certain mystery, because powerful artifacts have been scattered all over the world, which call us to each other with their dark force. However, we must be careful, because we do not know what is behind them, and excessive greed can lead to our defeat.
Mechanics
Blazing Beaks is a dynamic arcade game with three levels of difficulty, in which we explore randomly generated locations, with randomly selected loot, as well as opponents we have to defeat, using dozens of weapons available in the game. We have here laser guns, crowbars, freezing and acid guns, black matter guns and others.
In addition to fighting opponents, we have a lot of special items and artifacts to collect. The former affect our statistics in the form of the chance to gain rare items, regenerate life points and their maximum amount, increase the reload speed and the number of bullets in the magazine, and the chance for critical attacks and dealing damage. The same is true of the aforementioned Artefacts, however, these, instead of strengthening our character, significantly weaken it.
The player takes on the role of one of the eight bird characters available, differing not only in species but also in skills. These include the ability to become invisible for a short period of time, the chance to freeze your opponent, and protection from missiles.
Part of the character is available from the very beginning, and part of it has to be unlocked by killing bosses (there are five of them in the game) waiting for us at the end of the theme area. However, if we get bored with the characters designed by the creators of the game, we can create our own or enjoy those created by other players.
Blazing Beaks has several game modes to play alone, in cooperation with or against friends. You can choose from a feature mode for 1-2 players, in which our task is to kill monsters, survive and get as far away as possible. The second mode is a tournament mode for two to four players, where players fight each other to stay alive as long as possible. This can be done in classic deathmatch, but you can also increase the level by starting a game with one of the challenges. These are divided into the Single Weapon mode (each player starts with one randomly assigned weapon that cannot be changed during the round), the Heart-Drop mode, which involves dropping hearts after receiving damage that can heal enemies, the Chess mode, which will deal damage to the skull and will not allow it to be picked up for a certain amount of time, and the Hunter mode, where each player starts with a spear that has to be picked up from the ground after each throw.
Technical aspects
Blazing Beaks is a game with colourful pixel graphics, in which everything is charming and with contrasting themes.
The game has full support of the controller.
Age Rating
age requirements: brak danych
System requirements
PC / Windows
Minimum: Dual Core 2.0 GHz, 2 GB RAM, graphic card Intel HD 4000 or better, 600 MB HDD, Windows 7/8/8.1/10