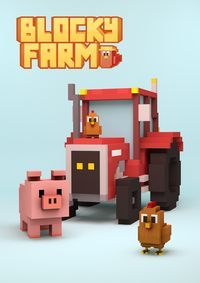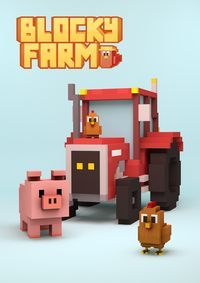 Blocky Farm
A humorous farming simulation game by Polish studio Jet Toast. You play as the owner of a small farm, which you have to turn into a prosperous business.
Simulation | casual | play for free | farm | Polish
Blocky Farm is a Polish mobile game created by the small team at Jet Toast. The title is available in free-to-play model with microtransactions - some are purely cosmetic, while others (diamonds) enable us to speed up the game. However, the whole thing is designed in such a way that it is easy to play without spending money.
Mechanics
At first glance, Blocky Farm resembles classic agricultural games, but the developers have thought of a few interesting additions. Our main goal is, of course, to run the farm. We need to plant arable plants and then harvest the crops. And here appears one of the novelties - an interactive tractor. During harvesting, we jump into the machine and ride in the field, mowing grain, etc. Our farm must also not run out of animals. Of course, we must take care of their health, providing food and shelter, but that's not all. Blocky Farm has some features of the iconic Tamagotchi as well. Thanks to this, we can play with the animals, namely with the cat and dog. Nothing stands in the way of e.g. putting our pet in a small car, which thry will drive. You can also throw a stick or give them glasses, a hat or one of many other personalization gadgets. In addition, the game offers more than twenty types of buildings fulfilling different tasks. All this makes it a quite complex and funny farm simulator.
Game modes
Blocky Farm enables us to have fun in a story campaign, during which we not only develop the farm, but also perform various tasks for the residents of a nearby city. In addition, there is a passive multiplayer mode in the production. Each week, developers also organize two global events in which we compete with other people. In addition, we have the opportunity to visit other players' households. Importantly, if we want, we can have fun offline.
Technical aspects
In terms of graphics, Blocky Farm resembles the famous Crossy Road. The visuals were created in a funny, voxel style, which looks rather nice. Additionally, the title runs in 60 frames per second.
Last updated on 19 March 2023
Game mode: single / multiplayer Multiplayer mode: Internet
Age restrictions Blocky Farm: Good for all ages.