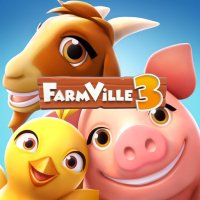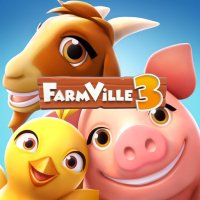 FarmVille 3
FarmVille 3: Animals
The third instalment of a series of casual agricultural games from Zynga studio. Once again, we take care of a decrepit farm, growing crops, breeding animals and constantly expanding our farm.
Strategy | Economic | casual | play for free | farm | animals | co-op
FarmVille 3: Animals is the next installment in a series of casual agricultural games by Zynga studio. The brand started in 2009 as one of the leading browser games available through Facebook. However, the sequel to the original FarmVille has also been made available for mobile devices and the same is true for the successor of the two.
Mechanics
In terms of gameplay, FarmVille 3 is not very different from the two previous instalments. The players find themselves on a ruined farm and try to restore it to its former glory. We start with repairing and renovating shed, well, etc., and then we start with farming, fishing and delivering the products thus obtained to the city. All this is done by performing specific actions on the touch screen. For all this, we gain the virtual currency necessary for further expansion.
According to the subtitle, the three of them put more emphasis on animal husbandry, from sweet little ones to adult specimens, thanks to which we acquire materials necessary for crafting. There are many breeds to unlock in the game, including truly exotic animals like lamas. The gameplay is also varied by the rich options of farm personalization and the weather conditions changing every day. The developers wanted that the game would allow for both casual fun and longer sessions of several hours.
Game modes
FarmVille 3 allows you to play alone with your computer helpers or with your friends in cooperation mode. We can also talk to friends via in-game chat and exchange resources.
Technical aspects and other
FarmVille 3: Animal uses a three-dimensional, exaggerated graphic design typical of mobile games. Studio Zynga made sure that the farm was full of life, introducing a handful of graphic corrections to the second part of the cycle.
Like all parts of the series, FarmVille 3 is available for free, but there is a micropayment system in the game. For money we will buy additional virtual currency and special items.
Game mode: single / multiplayer Multiplayer mode: Internet
App size:
Expectations: / 10 based on 1 votes.
Age restrictions FarmVille 3: Good for all ages.
FarmVille 3 System requirements
Additional information:
Internet connection is required.
Additional information:
Internet connection is required.