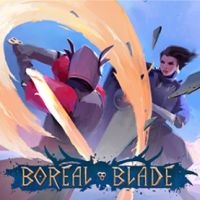 Game mode: multiplayer
Multiplayer mode: Internet, players: max 8
Boreal Blade is a third-person action game aimed at multiplayer team battles, in which we play the role of Nordic warriors using many types of weapons. The Finnish Frozenbyte studio, known for Trine series, is responsible for creating the production. The team worked on the title in secret and revealed its existence only on the day of its debut on the Nintendo Switch console, which preceded the premiere on other hardware platforms.
Plot
Action in Boreal Blade is located in the fictional land of Norvalg, which is inspired by the Viking culture and Scandinavian legends. Players take part in traditional battles, which are part of the "debates" between many competing Norval clans. The winners not only bring honor to their families and tribes, but also decide on the key issues for the future of the entire land.
Mechanics
Starting a game, we create our own character using a comprehensive editor. The Boreal Blade game was presented from the third person perspective. The combat system allows us to control the movements of the character separately, as well as the position of the weapon in his hands, which in turn affects the type of attack or block. Due to the implementation of this solution, there are hundreds of unique combinations of attacks. Battle participants can then choose the one that best suits their style of play.
Players can choose from four combat styles. Each of them has its own strengths and weaknesses, influencing the tactics we use during battles. The title also offers a rich and diverse arsenal (including swords, clubs, spears), as well as shields, armour and other useful items.
Game modes
Boreal Blade has a total of four variants of multiplayer play. A maximum of eight players participate in the matches. The title allows the holders of different hardware platforms on which it was released to have fun together.
Technical aspects
Boreal Blade has a stylized graphic design that uses pastel colours, simplified ambient models and characters to create a coherent and appealing whole.
System requirements
PC / Windows
Recommended: Intel Dual Core 2.6 GHz, 8 GB RAM, graphic card 2 GB GeForce GTX 560 / Radeon HD 6850 or better, 4 GB HDD, Windows Vista/7/8/10
Minimum: Intel Core i3 1.8 GHz / AMD Dual Core 2.0 GHz, 4 GB RAM, graphic card 896 MB GeForce GTX 260 / 1 GB Radeon HD 4850 or better, 4 GB HDD, Windows Vista/7/8/10