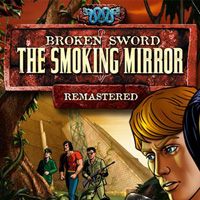 Broken Sword: The Smoking Mirror - Remastered is a remastered version of the adventure game from 1997, which is the second installment of the respected Broken Sword series. Both versions of the game, just like the whole series, were developed by Revolution Software, also known from such classics as Lure of the Temptress or Beneath a Steel Sky. Unlike the original, the title appeared not only on PC but also on popular mobile devices.
Plot
In Broken Sword: The Smoking Mirror - Remastered, we meet George and Nico, characters known from the first part of the series. The game starts with the woman being kidnapped, and everything indicates that this may be related to the mysterious Mayan stone that has just been found by the adventurers. Trying to save a friend and learn more about the mysterious find, George will have to visit many places such as Paris, London, Marseille and the dangerous jungles of Central America. It will turn out that the seemingly ordinary drug trafficking route is, in fact, a path leading to demonic powers of an ancient civilization. Our protagonist will have to face not only the ruthless drug barons but also the powerful supernatural forces that threaten the entire humanity.
Mechanics
The second part of Broken Sword was made in the style of its predecessor. We are dealing with a classic point-and-click adventure game, in which the player's task is to explore, have dialogues, collect necessary items and solve simple logical puzzles.
Technical aspects
Broken Sword: The Smoking Mirror - Remastered offers slightly improved graphics, with animated faces of the characters and new cut-scenes which were done by, e.g. Dave Gibbons who already worked with the Revolution studio on the remastered versions of Broken Sword: Shadow of the Templars and Beneath a Steel Sky. The game was adapted to the requirements and capabilities of modern PCs. The same goes for the remastered sound. The authors have also tried to change the interface, contextual system of hints and the main character's diary, which now makes it easier to combine subsequent clues into something coherent.
Age Rating
age requirements: 12+
System requirements
PC / Windows
Recommended: Pentium, 16 MB RAM, 600 MB HDD, Windows 98/XP/Vista