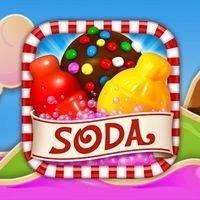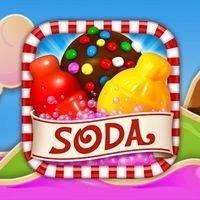 Candy Crush Soda Saga
Another installment in the popular series of puzzle games developed by King. Since 2012, the series has become extremely popular among mobile platform and Facebook users. Candy Crush Soda Saga expands the ideas known from the previous installments of the series.
Candy Crush Soda Saga is another match-3 puzzle game developed by King and released for AND, WWW and iOS. It is a sequel to the extremely popular Candy Crush Saga which was released in 2012. It uses free-to-play distribution model.
Gameplay
Gameplay mechanics did not change greatly in comparison to the first game in the series. Once more the player is tasked with combining candies into groups of at least three of same type. However, the game became more interesting thanks to the introduction of sodas. Now one of the main objectives is to use these drinks to fill the map with them. It can be done in classic way, by combining the colorful water in bottles with candies that have the same color (for example, two blue jellies + blue bottle with drink). The player has only slightly more than a dozen of moves to complete specific objectives. The less moves are used, the more points can be obtained.
Technical aspects
Not only is the gameplay of Candy Crush Soda Saga for AND, WWW and iOS similar to Candy Crush Saga, but the graphics of the game have the same cartoonish style as well.
Game mode: single player
Age restrictions Candy Crush Soda Saga: Good for all ages.